The Alpinestars 2021 Collection has been designed with the most attention to materials technology, maximum airflow, and ultimate protection and performance. Engineered to protect riders, the new 2021 line expands the range of new SM5 Helmet, Tech 10 Supervented Boots, and the new range of lightweight and breathable Bionic Flex and Bionic Action Protection, the 2021 gear line includes over 40 new gearsets and new youth racer gear in 5 different styles.
In addition to the Supertech, Techstar, and Racer series, the MX21 equipment is designed to reach more drivers, with advanced moisture absorption, extremely lightweight, and very durable. The Fluid series stands out with its innovative and rigid design for a magnificent performance appearance.
All the products in the MX21 collection make the riders feel the best of dirt shield, maximum protection against hard shocks, and the time they spend on the engine. Let's take a closer look at the detailed features of the MX21 gear sets, designed with performance innovations, protection capacity, and biker-friendly comfort features: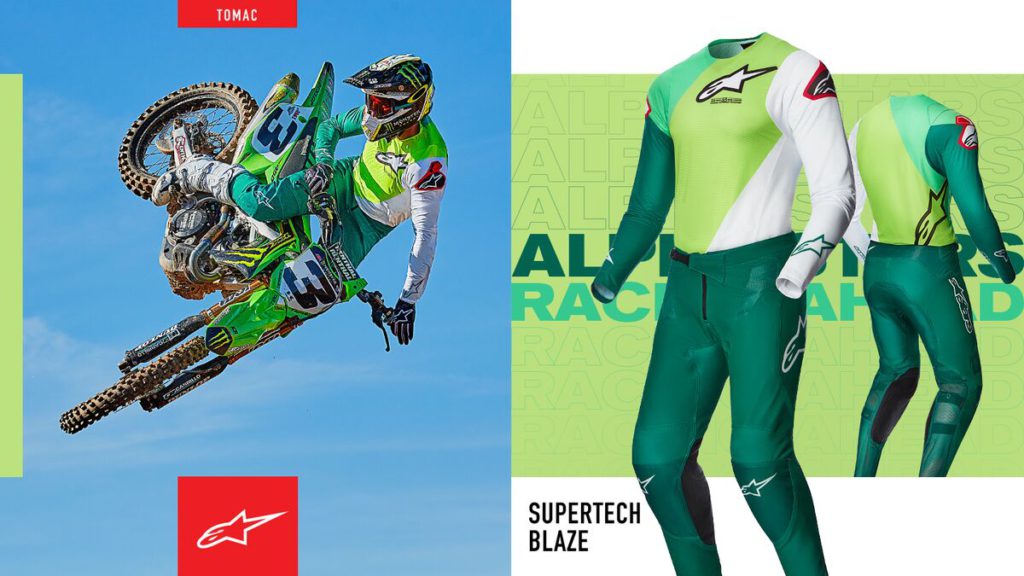 SUPERTECH
The Supertech Series is Alpinestars innovative Motocross apparel line, designed for the superior riding performance that Alpinestars is known for. With a new performance design for an athletic fit, the Supertech Jersey is Alpinestars lightest ever MX jersey made entirely of advanced stretch mesh and ultra-lightweight construction. The aggressively styled Supertech Series incorporates a host of race-proven features such as the innovative ergonomic shoulder and arm construction for superior freedom of movement and an extended back panel to maintain a flawless riding fit.
The emphasis on performance is also applied to the design of the Supertech Pants, which feature advanced stretch materials, an ultra-lightweight construction, a double waist hook-and-loop closure system with two straps, and a high resistance ratchet system to ensure a precise, personalized, and secure waist fit. The Supertech Pants incorporate a host of race-proven technologies for comfort and performance-winning pedigree in Supercross and Motocross. Supertech Blaze – Bold, angular color blocking, pro-racing inspired by Factory teams' colors Supertech Foster – Clean, modern minimalist design.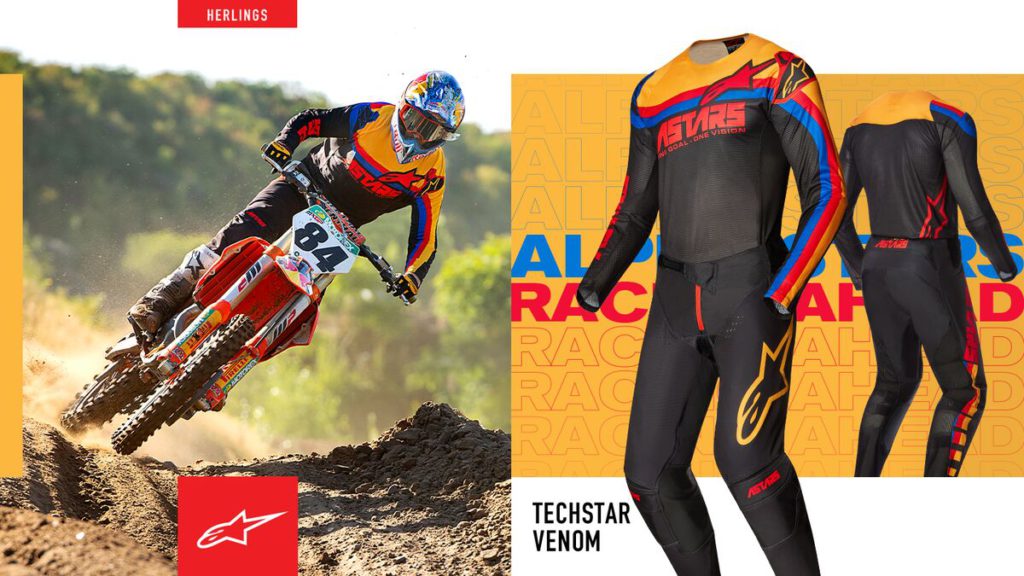 TECHSTAR
An extremely lightweight design, the Techstar Jersey and Pants provide excellent freedom of movement and feature an open knee construction which allows for flexion and incorporates strategically positioned mesh inserts for airflow and ventilation providing greater athletic and aggressive performance.
TECHSTAR FACTORY – Factory team-inspired designs and color combinations
TECHSTAR VENOM – Modern interpretation of heritage, vintage racing style from the '70s / '80s with a retro look
TECHSTAR PHANTOM – Clean, simple style incorporates vertical color gradation and fading effects for color impact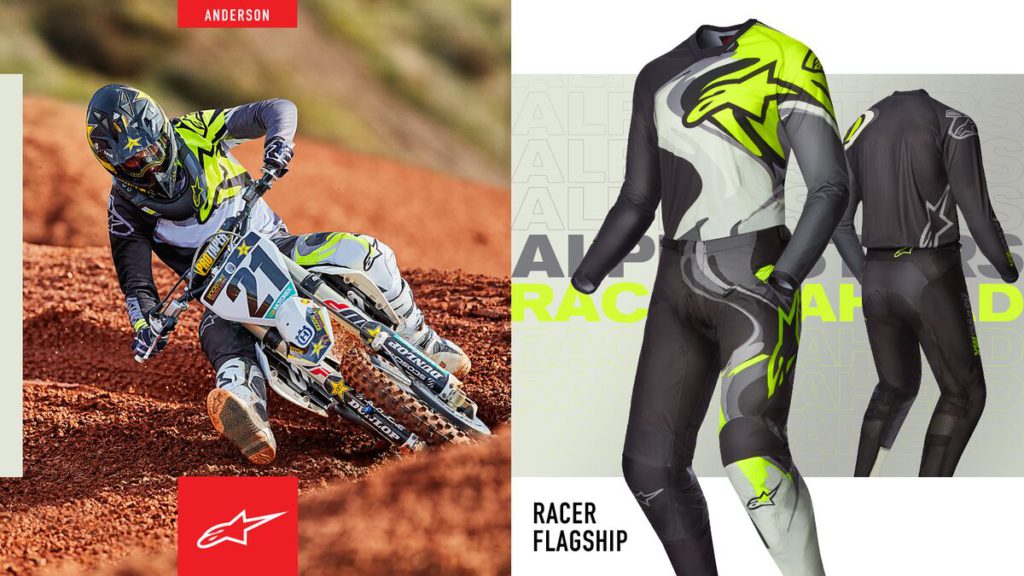 RACER
Developed and tested on some of the toughest terrains around the globe, the sport fit Racer Jersey and Pants are ideal for many forms of off-road riding thanks to the pre-curved sleeves and leg construction, moisture-wicking, lightweight and durable materials.
RACER BRAAP – Big, Bold Alpinestars logo used to form the color blocked graphic
RACER SUPERMATIC – Clean, modern interpretation of classic MX gear designs
RACER FLAGSHIP – Unique, psychedelic rippling wave design inspired by riders' personalities outside the box
RACER COMPASS – Bold, colorful design with large type inspired by a combination of Anime, gaming and Japanese Kanji font
RACER TACTICAL – Contemporary camo style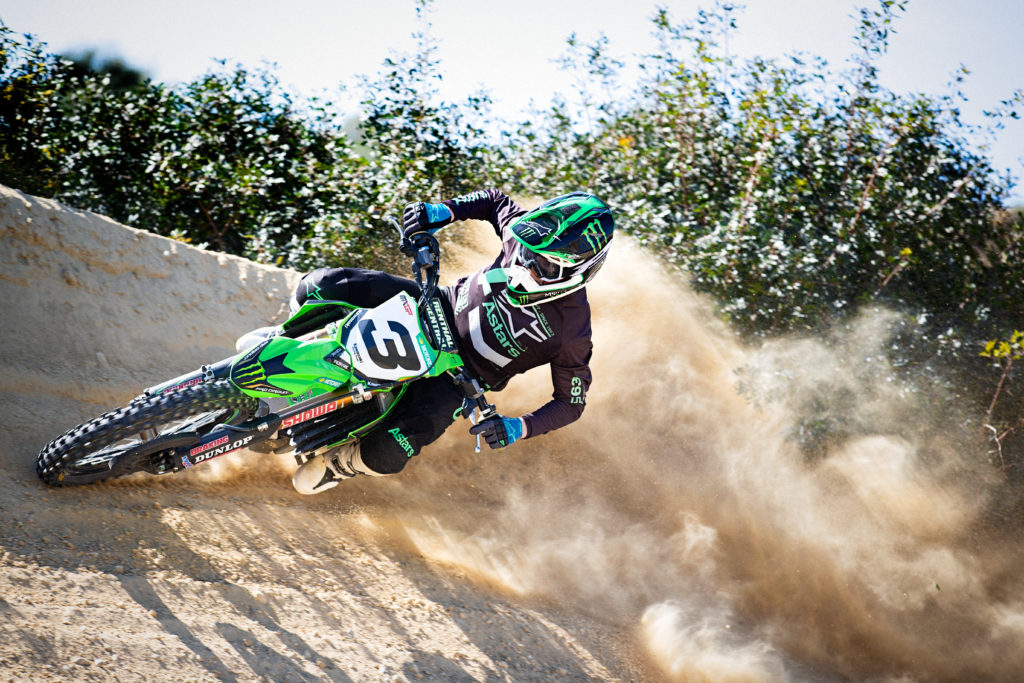 FLUID
The newly established Fluid Series gives new riders access to optimal MX technology, which leverages key construction and other features from the rest of the gear lines. The lightweight Fluid Jersey and Pants come in a range of distinctive and aggressive color combinations for a total performance look and feel incorporating many features of the Supertech, Techstar, and Racer Series.
FLUID CHASER – Tech inspired logo incorporates QR Code, cyber motif, and arrows, as well as a Factory team, sponsor-driven flare
FLUID GRAPHITE – Clean, timeless black on black offers a stealthy, chic feel
FLUID TRIPPLE and FLUID SPEED – Clean, bold and logo driven designs
Alpinestars continues to improve itself every day with its products in the top segment of excellence and with its regenerative and performance products produced by feeling the emotions of all drivers.
For more information: www.alpinestars.com