The FC 450 ROCKSTAR EDITION is a motorcycle built to perform at the highest level. Embracing the highly successful collaboration between Rockstar Energy and Husqvarna Motorcycles, this exciting model will form the basis for the Rockstar Energy Husqvarna Factory Racing machine competing in the 2021 AMA Supercross Championship.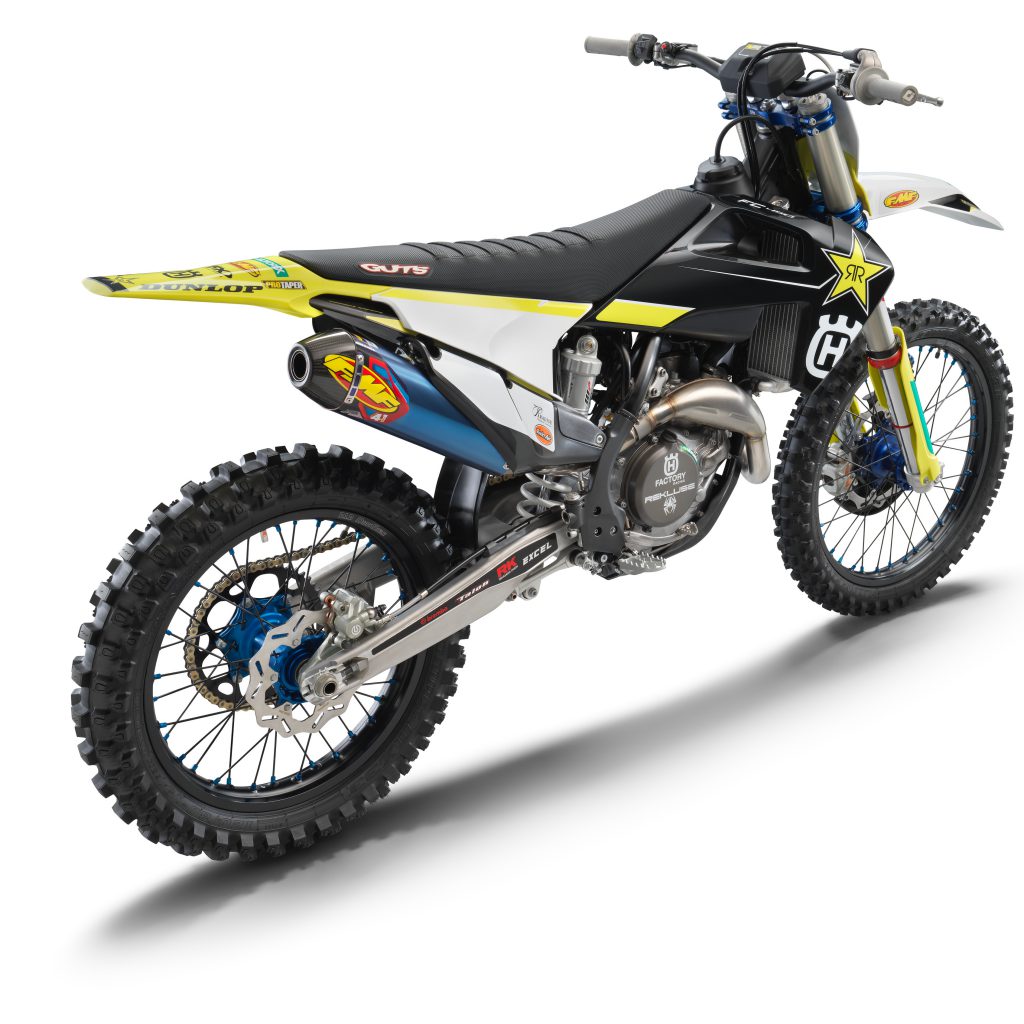 POWERFUL ENGINE
The SOHC cylinder head is incredibly compact and lightweight using a short profile with the camshaft located as close to the center of gravity as possible, significantly improving handling and agility. The lightweight valves are actauted via a rocker arm and feature timing specifically designed to deliver precise levels of torque and throttle response.
BREMBO BRAKES
The highest level of braking performance is delivered with class-leading Brembo callipers and controls. The 260 mm floating front and 220 mm solid rear discs offer superior stopping power instilling confidence in any condition. A standard front disc protector is fitted protecting the brake disc from possible damage.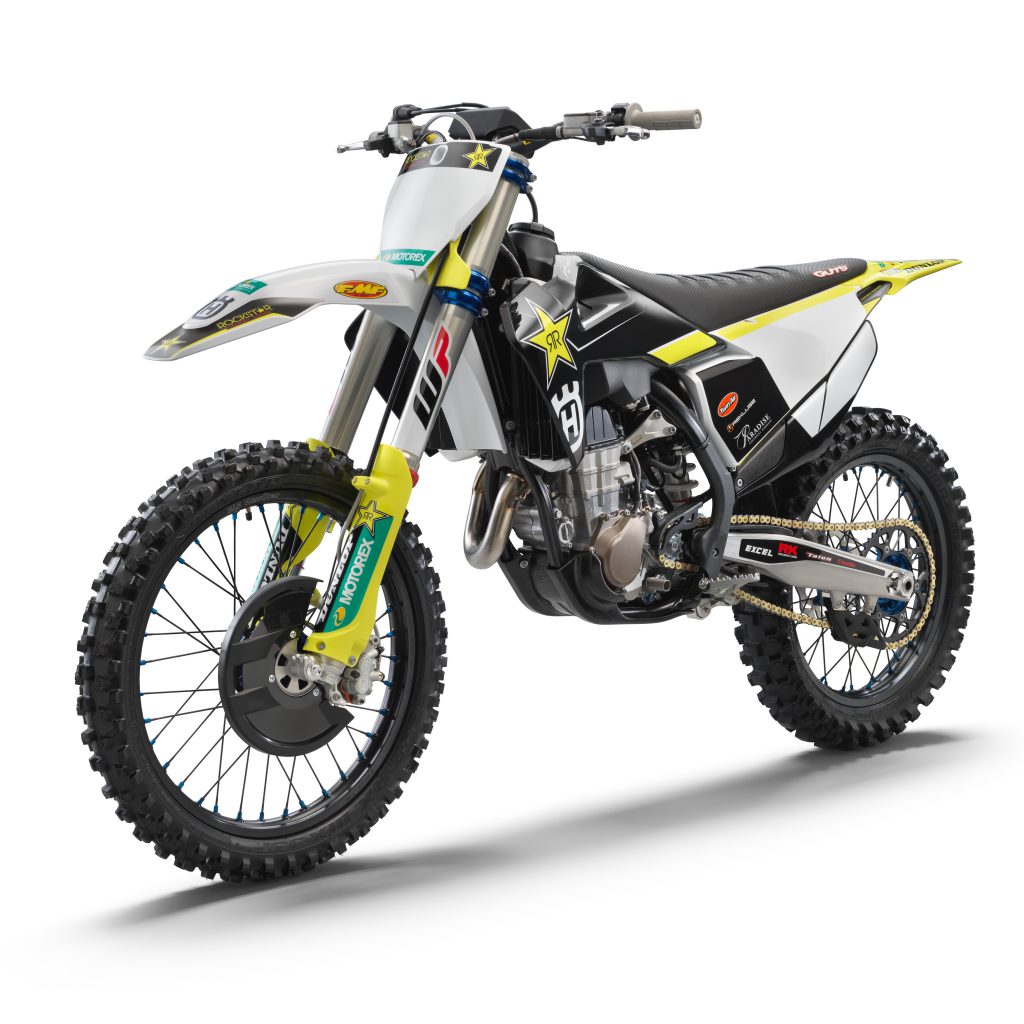 FUNCTIONAL BODYWORK
The FC 450 ROCKSTAR EDITION features bodywork which clearly showcases Husqvarna Motorcycles pioneering design direction in offroad motorcycles. The ergonomics are specifically tailored to deliver greater comfort and control, enabling riders to perform at the highest level for extended periods of time. The seat line and high grip seat cover deliver superior comfort and control in all conditions.
CONNECTIVITY UNIT
The Connectivity Unit is required to provide connectivity features such as motorcycle status information which allows the rider to monitor the condition of his battery and engine operating hours. Additionally, all engine mapping adjustments and suspension recommendations are enabled through the myHusqvarna app. The key highlights of the myHusqvarna app are two main engine modes – Prime and Advanced. These options let riders of all abilities accurately set-up their engine's performance according to their specific requirements and track conditions. Depending on the mode, riders can further modify Engine Brake, Throttle Response, Traction and Launch Control, based on personal preferences.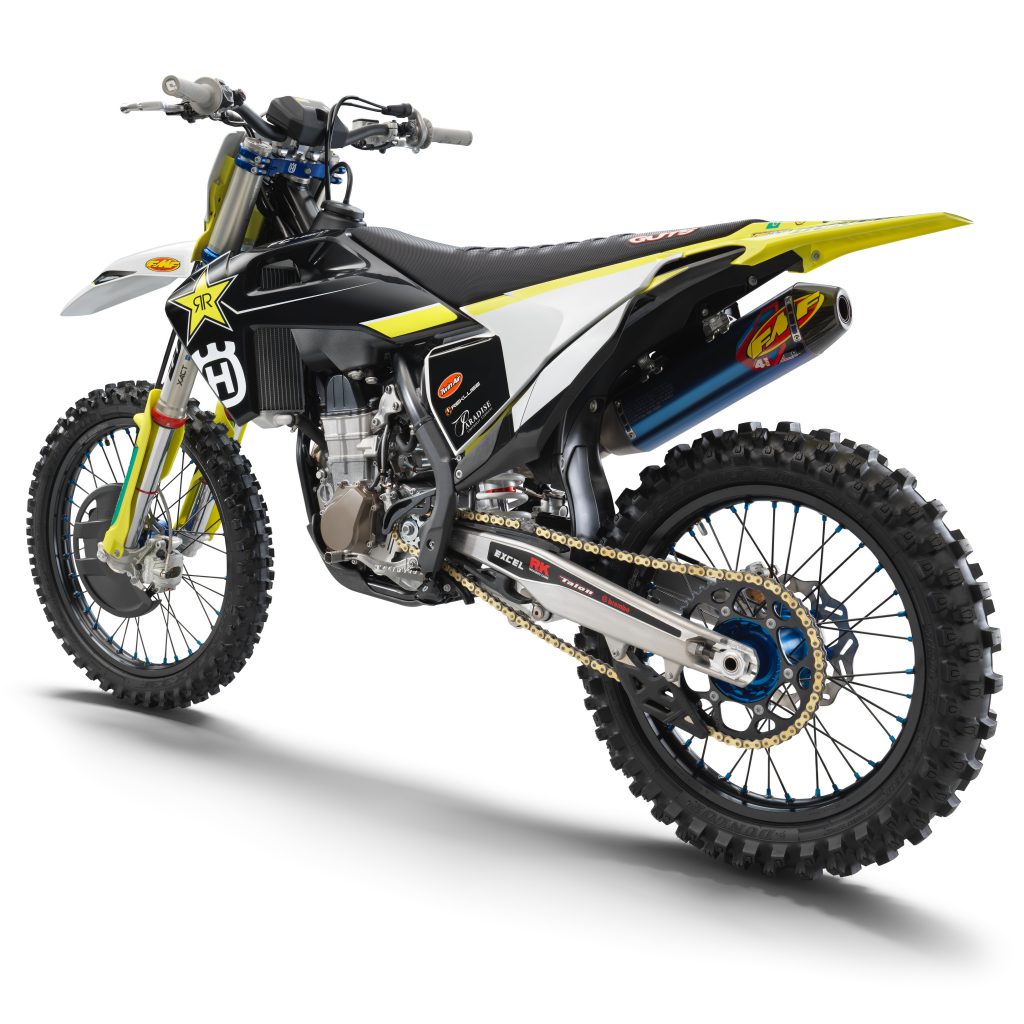 ENGINE
TRANSMISSION5-speed
STARTERElectric starter
STROKE63.4 mm
BORE95 mm
CLUTCHWet, DDS multi-disc clutch, Magura hydraulics
DISPLACEMENT449 cm³
EMSKeihin EMS
DESIGN1-cylinder, 4-stroke engine
CHASSIS
WEIGHT (WITHOUT FUEL)101 kg
TANK CAPACITY (APPROX.)7 l
FRONT BRAKE DISC DIAMETER260 mm
REAR BRAKE DISC DIAMETER220 mm
FRONT BRAKEDisc brake
REAR BRAKEDisc brake
CHAIN5/8 x 1/4″
FRAME DESIGNChrome-moly tubular space frame, powder-coated
FRONT SUSPENSIONWP XACT-USD, Ø 48 mm
GROUND CLEARANCE370 mm
REAR SUSPENSIONWP XACT Monoshock with linkage
SEAT HEIGHT950 mm
STEERING HEAD ANGLE63.9 °
SUSPENSION TRAVEL (FRONT)310 mm
SUSPENSION TRAVEL (REAR)300 mm
For more information: www.husqvarna-motorcycles.com