FMF/KTM's Kailub Russell claimed the 2020 Kenda Full Gas Sprint Enduro title with a close victory at this weekend's Silver Hawk Plantation Sprint Enduro, the series finale, held at the Silver Hawk Plantation in Buffalo, South Carolina. The title was Russell's third Full Gas Sprint Enduro championship and second in a row.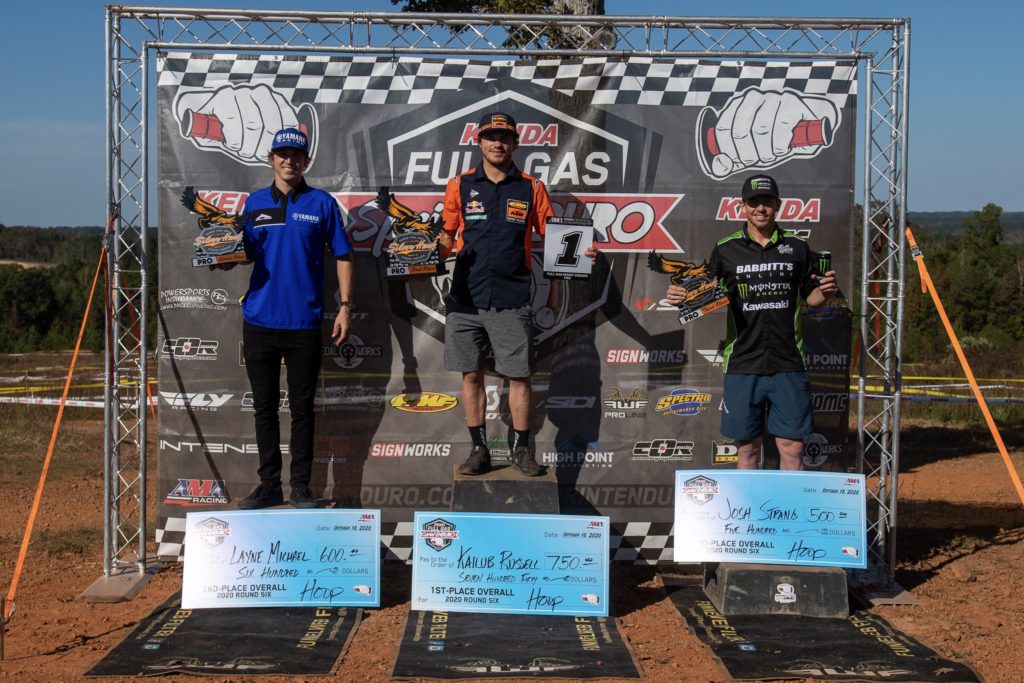 AmPro Yamaha's Layne Michael gave Russell a good battle, and in fact, led the race by two seconds with two tests remaining. However, as he often does, Russell dug deep and made up the distance to take the overall win.
"It was good to get the overall win, but it was kind of strange how it worked out," said Russell. "I won one test on Saturday and I won the day, and then I won all but one today and almost lost. It was a tough weekend. I was a little unsure how Saturday was going to go because I was a little bit off and you don't have to be off by much to be pretty slow here. But I rode better on Sunday, and that was enough."
In all, Russell won six tests, one on Saturday and five on Sunday. However, two crashes in test four on Sunday cost him dearly as the North Carolina rider finished the test 12 seconds behind Michael, moving him into the lead. 
Trailing Michael with two tests remaining, Russell made up 1.2 seconds in the Cross test and entered the final test just .8 seconds behind. The final test would be the decider and Russell finished strong, winning the final test by 3.3 seconds and taking the overall victory by 2.4 seconds.
"I came out swinging today and rode good," said Russell. "I had awesome times the first three tests and then test four I kind of threw it away and had a couple falls. My front brake lever fell down and I couldn't get it back up. It was so far down I was having a hard time getting to it, so my timing was a little bit off. But I was able to pull it together and win the last couple tests. So five out of six on the day."
Although Michael won five tests over the weekend, the race marked the second round in a row where he was in position to take the overall win, only to lose out in the final test.
"It's frustrating because he got me at the last one in the last test and got me on this one in the last test," said Michael. "But it was a good weekend, nonetheless. I fought hard. I was there all weekend and pretty consistent. One little mistake kind of cost me, but like I said, he had a big one that kind of put me back in it. All in all, a good weekend. Any time you're batting with Kailub it's good." 
Overall Results:
1. Kailub Russell (KTM)
2. Layne Michael (Yam)
3. Josh Strang (Kaw)
4. Lyndon Snodgrass (Kaw)
5. Liam Draper (KTM)
6. Jesse Ansley (KTM)
7. Ben Nelko (Hsq)
8. Cole Mattison (Hsq)
9. JoJo Cunningham (Kaw)
10. Dalton Seals (Yam)