Steward Baylor, once again, let his riding do the talking at this weekend's Burr Oak GNCC at Sunday Creek Raceway in Millfield, Ohio, September 27. After three hours of racing, Steward came away with his second win in a row, both coming on an Am Pro Yamaha.
The Grand National Cross Country Series returned to Sunday Creek Raceway for the second time in 2020 for the Burr Oak GNCC (the first trip there was for the John Penton GNCC in June), when land restrictions due to COVID-19 forced the cancellation at another venue.
FMF/KTM's Ben Kelley grabbed the holeshot to start the afternoon race, but overshot the next turn, giving way to Babbitt's Online/Monster Energy/Team Green Kawasaki's Jordan Ashburn.
Baylor took over the lead when Ashburn made a mistake in the "John Penton" section. Kelley followed in second, while FMF/KTM's Kailub Russell pursued in third.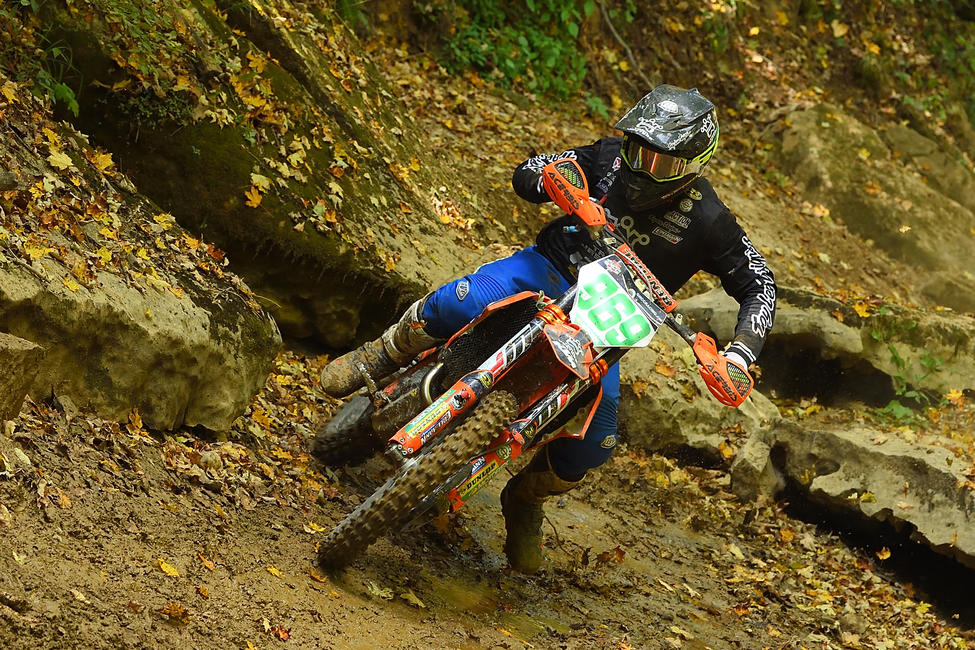 Russell actually came into the Burr Oak with a mathematical chance of wrapping up his eighth XC1 title, but took a spectacular crash on the opening lap—also in the John Penton section. The crash destroyed Russell's bike and sent him to the pits with a sore knee.
"It's pretty disappointing," said Russell. "I just got confused on my line choice in the John Penton section, we were on this little road and I thought I had already committed to the outside line, I was actually on the inside and I was going to drift out and when I drifted out there was a tree right in the center—it split the two lines—and I just wedged my knee up against that tree and my bike and actually just smashed it between there, knocked the wind out of myself having a hard time bending my knee, it feels like it's locking up pretty good and I can feel some fluid in there."
In a twisted bit of irony, Babbitt's Online/Monster Energy/Team Green Kawasaki's Josh Strang, the rider second to Russell in points and with the best chance of catching Russell in the title chase, stopped to help Russell after his crash, compromising his results. Russell publicly thanked Strang after the race.
Three laps into the three-hour race, Kelley made a push, closing in on Steward on a couple of occasions, but each time Steward would turn up the volume and pull away.
FactoryONE Sherco's Grant Baylor was running third at this point, and spent the race holding off Ashburn, Phoenix Honda's Andrew DeLong, Johnny Girroir and Am Pro Yamaha riders Layne Michael and Mike Witkowski, before finally pulling away to a solid third-place finish.
Up front, Steward managed to break away from Kelley in the dust and crossed the finish line with a 58-second gap.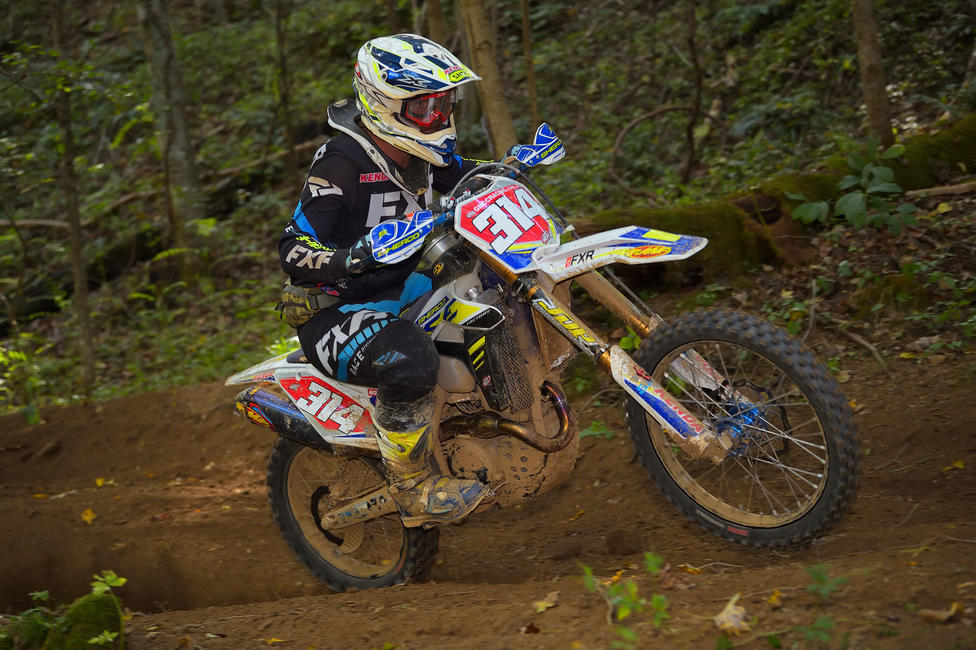 "We worked hard this off-season and had some hiccups there in the middle part of the year, but I knew what I wanted," said Steward. "I knew coming into this season when Kailub announced retirement I wasn't going to have that many chances. Luckily, he slipped up there that first lap, and very seldom did you see Kailub miss a line. In the Penton section there was something that just gave me the advantage that I needed over Kailub. Once I got in the lead, I knew I could control it. The dust, that was the big factor today, being able to get up front, get in that lead, control the race. That third hour is absolutely brutal. I knew when Ben made a charge, I think lap three, I saw him running in and I was kind of just cruising there and it woke me up. Lap four I dropped the hammer and lap five I think I was beat and I saw that I was still putting time on him."
For the second race in a row, Kelley claimed a strong runner-up finish.
"I got the holeshot, but almost wish I checked up so I could have not overshot the corner and been stuck in that dust first lap," said Kelley. "I had a few little mistakes here and there but that's typical GNCC style. I felt like I rode really good. Stew just beat me straight up. It was a fun race. The track was cool, tight and technical and had some fast, open stuff that you could really flow through. So overall a good race."
Grant took third, another two minutes behind Kelley. "I actually got off to a pretty good start for once and stayed with the lead group there for a little ways," said Grant. "Steward and Ben just seemed to break away from me there, and Kailub. Then not long after that I saw Kailub down there in the Penton section and stopped to check on him and then stopped and told some guys that he was down back there. After that I kind of lost track of Steward and Ben. Kind of just rode my race from there, tried to break back away from Jordan and Andrew and Layne there towards mid-race. I was able to get away from those guys and ride a solid third place. So, happy."