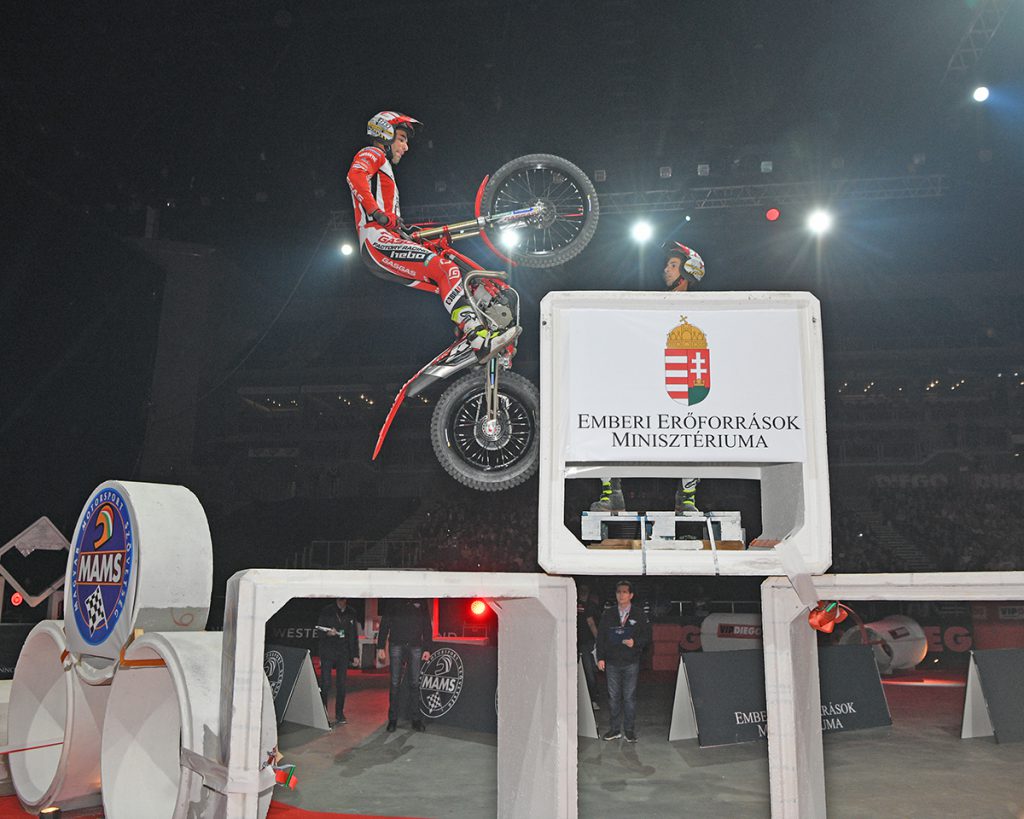 GasGas Factory Racing's Jorge Casales has returned to the 2020 FIM X-Trial World Championship with a fifth-place result at the third round of the eight-event series, the X-Trial of Budapest, held within the city's Sport Arena. Despite an unfavourable starting position in the opening heat of the night's first round, Casales made a highly positive start and was hopeful of bettering his round one result.

Jorge Casales makes first X-Trial World Championship outing of 2020 in Budapest
Positive opening heat was frustratingly followed by a disappointing second round
Fifth overall, Casales now sits seventh in the X-Trial series standings
Absent from the second round of the series in Rennes, France, Casales returned to X-Trial action in Budapest having showed some excellent performances in the heat stages of the championship opener, X-Trial La Reunion.
In the night's first round Casales was drawn in the first heat against Miquel Gelabert and Jeroni Fajardo. Disadvantaged as the first rider to enter each of the five sections, Jorge dropped just one mark in section one as he made a notably positive start to the event. Although picking up fives in the second and third sections, in dropping only one mark in the fourth and fifth sections, Casales completed the heat on a total of 13 marks, just two behind heat one winner Fajardo. At the end of the first round Jorge was placed sixth, just seven marks behind winner Toni Bou.
In the second round Casales was again in heat one and again the first rider to enter each of the five sections. Frustratingly, scoring fives in each of the five sections he was unable to proceed into the runners-up final and ended his night fifth overall.
Jorge Casales and the GasGas Factory Racing team will next be in action at the fourth round of the 2020 X-Trial World Championship, X-Trial Barcelona inside the Palau Sant Jordi, Barcelona, Spain on February 2.
Jorge Casales:"It has turned out to be a tough night. I felt good arriving in Budapest after some good training during the week. The first heat went well, but I made a few mistakes and that made me a little unsure about making the semi-final. Thankfully, I did make it into the semi-final and the sections were really difficult – also being the first rider to enter each section made things even harder. I had no references, but I gave it everything I had. I scored a lot of fives but, well, overall I am really satisfied and can see some very positive results ahead if I can remove some small errors from my riding. We'll continue working hard and look ahead to the next round in Barcelona."
Results: X-Trial Budapest 2020
1. Toni Bou, Montesa/Spain, (15 – Final)
2. Adam Raga, TRS/Spain, (15 – Final)
3. Gabriel Marcelli, Montesa/Spain (5 – Runners-up Final)
4. Jeroni Fajardo, Sherco/Spain, (5 – Runners-up Final)
5. Jorge Casales, GasGas/Spain, (25 – Round 2)
6. Jaime Busto, Vertigo/Spain, (25 – Round 2)
7. Miquel Gelabert, Vertigo/Spain, (16 – Round 1)
8. Benoit Bincaz, Beta/France, (16 – Round 1)
Championship Standings: X-Trial World Championship 2020 (after round three)
1. Toni Bou, Montesa/Spain, 60 points
2. Adam Raga, TRS/Spain, 45
3. Jaime Busto, Vertigo/Spain, 22
4. Jeroni Fajardo, Sherco/Spain 21
5. Miquel Gelabert, Vertigo/Spain 20
6. Gabriel Marcelli, Montesa/Spain, 18
7. Jorge Casales, GasGas/Spain, 12