Manuel Lettenbichler has had an amazing 2019 season of Extreme Enduro racing. The twenty-one-year-old German dominated the Kenda Tennessee Knockout on his KTM 300 XCW TPI. This was just a few weeks after winning the four-day-long Red Bull Romaniacs, to go along with a runner-up finish at the Erzberg Rodeo. Sherco-backed Mario Roman, from Spain, put up a good fight but settled for second in his third straight podium finish at the TKO. Fellow Sherco rider, Wade Young, from South Africa, rounded out the podium.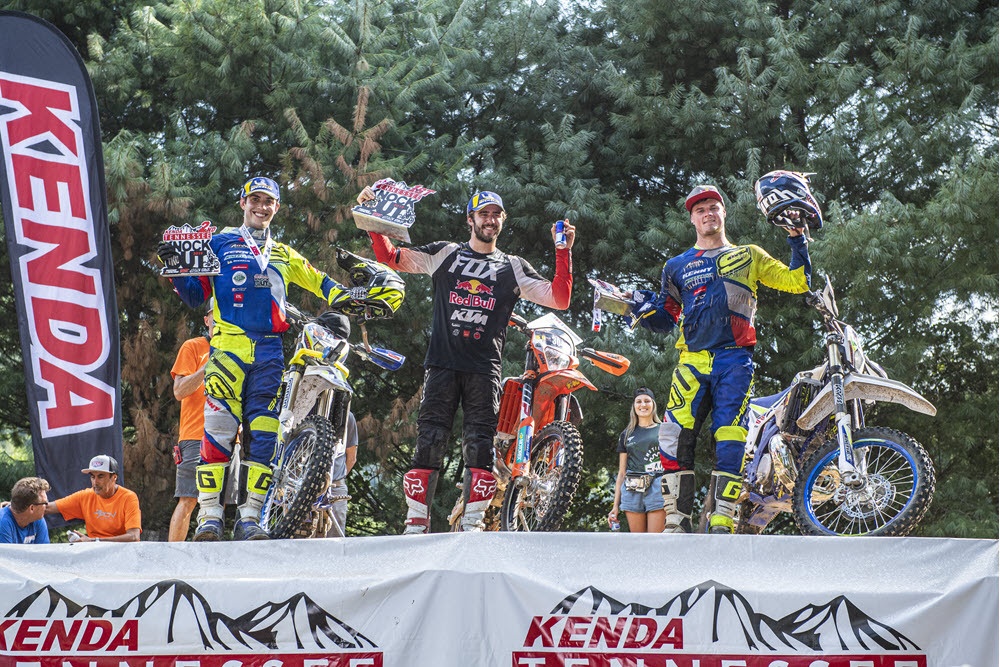 The ninth annual Kenda Tennessee Knockout had almost 400 entries that started with a prologue to set the starting positions on Friday, followed by two rounds of racing for Amateur riders on Saturday. The top thirty of those amateur riders earned a spot in Sunday's racing, which also included twenty-seven pre-qualified pro riders. Nate Smith won the Saturday morning race. Seventeen-year-old Ryder LeBlond took the Amateur win over Smith and Jarrett Mohn to earn the AMA Amateur Extreme Enduro Grand National Championship and move forward to Sunday.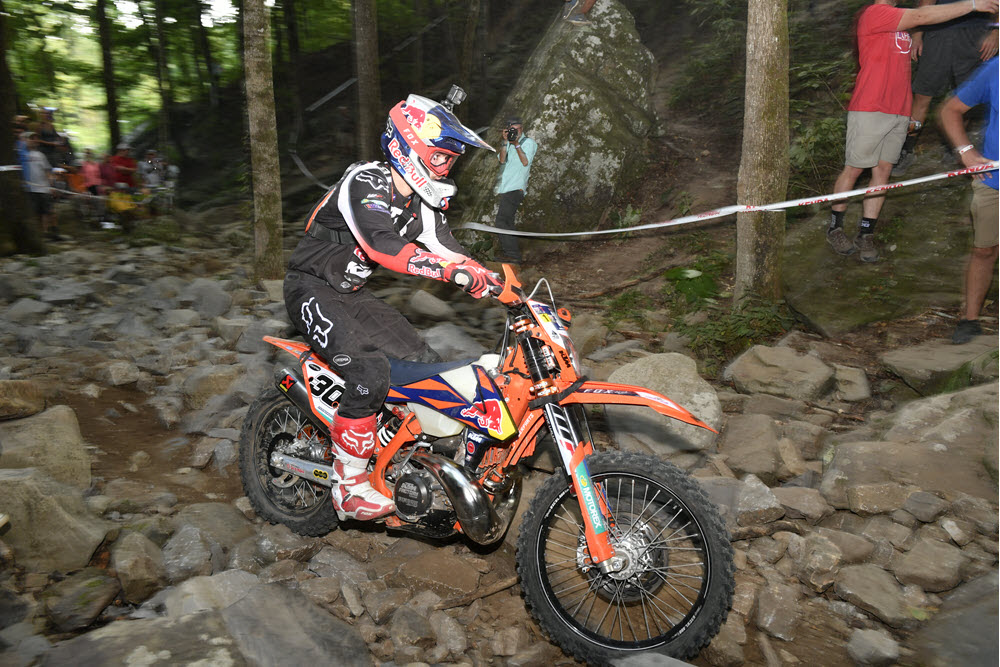 Sunday includes four rounds of racing for the fifty-nine riders and starts with a Hot Lap on a mile-long "short course". Lettenbichler set the fastest time with a 4:26 lap. Roman was second with a 4:32 followed by Rockstar Husqvarna's Colton Haaker with a 4:43 and Young rounded out the top five with a 4:47 time.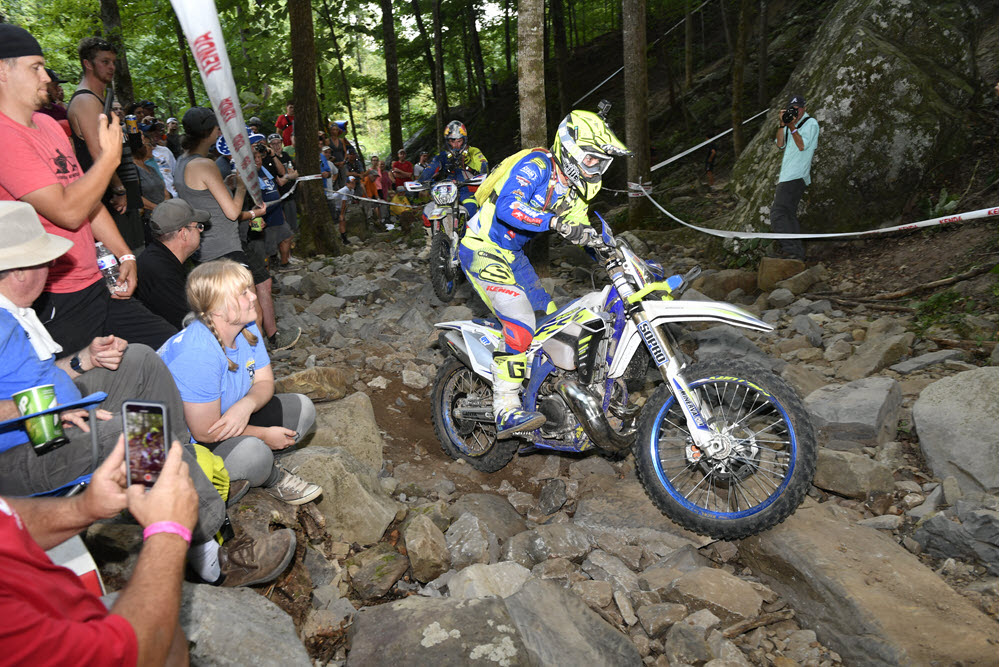 Knockout round one takes place on a nineteen-mile long loop with the top twenty-five riders moving on to the next round. The riders take off in thirty-second intervals and race against the clock. Lettenbichler again set the fastest time of 1:01:28. Haaker was second fastest with a time of 1:03:49. Roman was third at 1:04:55. Am-Pro Yamaha's Ricky Russell showed impressive speed with a fourth-place finish in 1:05:07. Trail Jesters KTM's Ben Kelley rounded out the top five with a time of 1:05:53.
Knockout round two switches from a race against the clock to a head-to-head format with four groups of five riders and one group of six after a twenty-sixth rider earned a spot in the next round after out-dueling three other riders in the last chance qualifier. In this round, those five groups would be competing for the fifteen spots in the final by finishing in the top three in their respective groups. This was back on the nineteen-mile long course with a few more challenging sections added in. Lettenbichler won group one over Trystan Hart and Liam Draper. Haaker won group two over Grant Baylor and Ronnie Commo. Roman won group three over Beta's Max Gerston and Nick Fahringer. Young won group four over Russell and Quinn Wentzel. Kelley won group five over Nate Smith and Mitch Carvolth. Smith had raced both races on Saturday and still managed to earn one of the coveted spots in the main event. Notably, Young had the fastest time during round two at 1:06:29 to serve notice that he may have the speed to challenge for the win.
The main event moved back to the short course with a 30-minute plus one lap battle, which ended up taking Lettenbichler 37:10 to complete. "Letti" jumped out to the early lead and managed to maintain it for the entire race, which ended up being 8 laps. The battle for second included Young, Haaker, and Roman in the early laps. Roman passed Haaker and then he and Young battled back and forth for a couple of laps before Roman was able to work his way into second. In the end, Roman was unable to make much of an impact on Lettenbichler's lead and ultimately finished nearly two minutes back. Young dropped back to nearly four minutes behind the winner. Haaker held on for fourth place but went a lap down. Hart recovered from a pretty big crash to round out the top five.
Kelley finished in sixth position on his KTM. Russell finished seventh on a Yamaha YZ250X. Gerston was eighth on a Beta. Baylor finished ninth on a KTM and Commo rounded out the top ten on a KTM.
Lettenbichler had finished a close second to six-time TKO champion Cody Webb at the 2018 event and he used that experience to win in 2019. "It is a completely different kind of format than I normally race. You race four times during the day with high intensity. And the main event is so difficult because the pace is so high. I liked the loops but it is much hotter and more humidity than I am used to from home so it makes it very challenging. I was happy to have a comfy lead at the end of the final race so I could back off a little."
Roman finished third in the 2017 and 2018 TKO events and improved to second this year. "I think I am getting more experience year by year in this race. This is a special kind of race because you have a couple of hours in the morning just to qualify and then the main one is thirty minutes with high intensity and high humidity. I didn't have time to prepare much because we just came from Romaniacs. Letti was no mistakes and he was gone after I battle with Colton and Wade in the beginning but I am happy to improve and have a good result with the help of Sherco USA."
Young had a pretty serious foot injury that forced the defending Romiacs champion to pull out of this year's event. But he was here in the USA for his third attempt at the TKO. "I didn't feel so well on the bike this morning since I just got back on the bike when I arrived in the USA. But by the third round, I was starting to feel really good but when the final came around, my fitness was not so good due to my time off the bike. So I was not able to battle for the win but overall, I am happy, I would have liked to battle for first but this was the best I could do with the time off.
The Women's class had a total of 14 riders that tried to earn a spot in the main event by completing the morning race within the two and a half-hour time limit and ten of those riders moved forward to the main with three of the women finishing within the top forty overall among the 242 riders. Beta's Rachel Gutish took her third TKO win with a dominant performance. Shelby Turner and Nicole Bradford both had minor mishaps in the first few corners that put them behind but they rebounded to finish second and third respectively.
2019 Kenda Tennessee, Knockout Main Event Results
Manuel Lettenbichler, KTM
Mario Roman, Sherco
Wade Young, Sherco
Colton Haaker, Husqvarna
Trystan Hart, KTM
Ben Kelley, KTM
Ricky Russell, Yamaha
Max Gerston, Beta
Grant Baylor, KTM
Ronnie Commo, KTM
Quinn Wentzel, Husqvarna
Nick Fahringer, Sherco
Mitch Carvolth, Sherco
Liam Draper, KTM
Nate Smith, Husqvarna