Matthias Walkner is forced to push a lot by Toby Price's good performance. The Austrian rider got the stage winning and the 3rd with his best time.
Pablo Quinanilla had a good day for the stage and overall standing. The Chilean rider is in 2nd place  both stage and overall standing. 45 second behind Matthias Walkner in stage classification and 1'03" behind Toby Price.
Toby Price: "Today, I knew it had to count. That was my maximum today, so any more than that, well… I can't do any more. My wrist is on fire now, so it's been a long stage, 360 km, but we've made it here to the finish and there's just two more to go – this is a good thing. [For the wrist] you've just got to somehow shut it off. There's times when you can rest it and when you can't, but it's just difficult, though when you throw your helmet on and you go and ride your bike, you just want to do the best you can, and try and do it all again".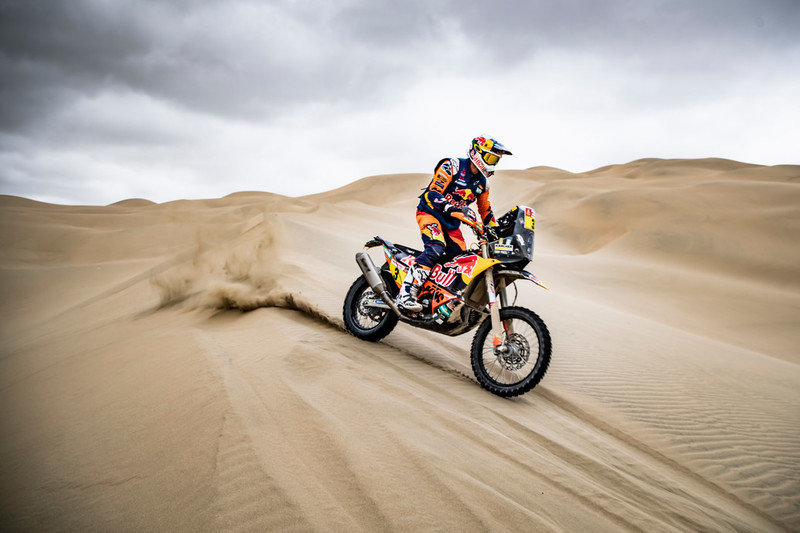 Sam Sunderland started the stage beause of Iritrack problem. English rider had to ride the special part in the dust of cars but it  didn't prevent him to be the 4th in stage and overall.
Adrien Van Beveren lost minutes and his 2nd place in overall due to navigational errors. So French rider couldn't be able to use the advantage of Ricky Brabec's drop out.
Stage 8 Classification
General Classification after stage 8