We were at Il Ciocco (Tuscany), home of the legendary Hells Gate, for the presentation of the Beta Motorcycles MY2020 RR Enduro Line-up!
Are more alternatives always POSITIVE?
Particularly on 4-stroke motorcycles, having too many alternatives with close specs may make it difficult for some customers to choose! " Would it been better if I bought the other one?! " could be one of the worst feeling after buying a new bike! Therefore, the fact that the 4-stroke motorcycle options are close and more, made it difficult for me to choose which one is best for me!
Starting from 125cc 2-stroke, I rode all BETA MY2020 line-up up to 480 cc 4-stroke respectively. Unfortunately, the GoPro footage of Beta RR 250 cc / 300 cc 2-stroke and BETA RR 480 4-stroke again suffered a GoPro SD Card Error. We know these are the bikes everybody's most curious about. The test event had a very tight time schedule and we couldn't find time to check footages before the end of the day! And we're so sorry about that issue! We understand from the comments on Youtube, how much you want to see the footages of especially 300cc 2 stroke, and you don't forgive us. 🙂 But as soon as we have the opportunity to reach bikes at the local dealers and ride, you can be sure that we'll test it and share the footage with you!
[adace_shoppable_image attachment="10394″]
First of all; MY2020 BETA RR models were released with completely new bodywork (front cowl, front and rear fenders, ducts and fairings) that improves ergonomics and definitely gives it a more aggressive look! This is certainly one of the factors affecting my purchasing decision! Of course, if I'm going to be with someone, it's not just because only is she beautiful. But it's a good start to think about the idea of ​​being with her!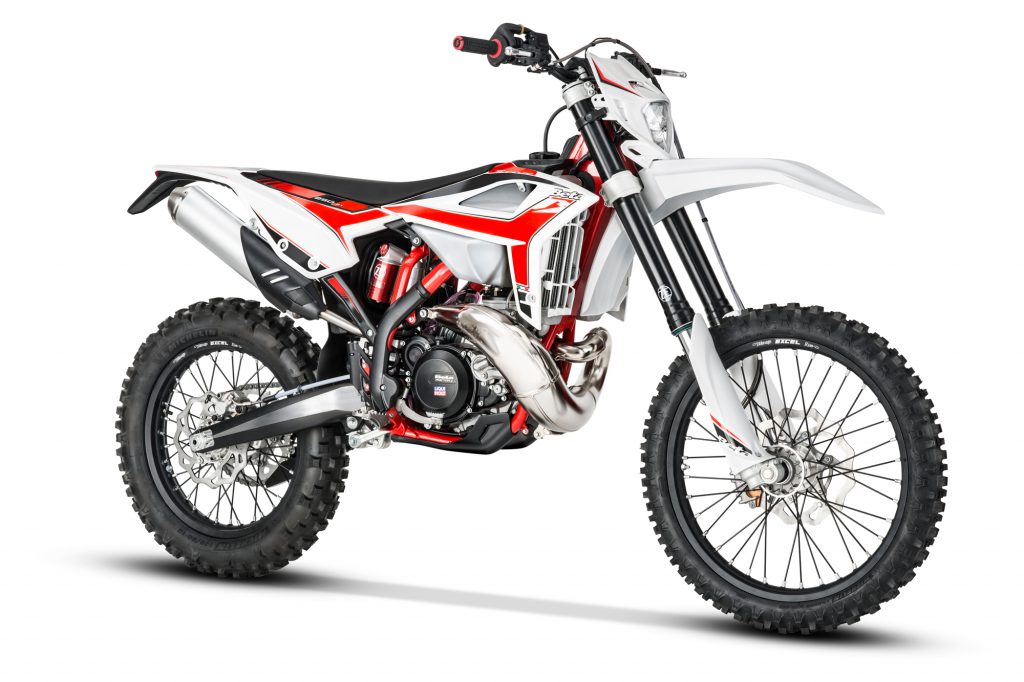 The design of the air duct on the number plate is likely to be trouble when designing and installing the number sticker!
Larger capacity fuel tanks, of 9.1 l (2.4 US gallons) for 4-strokes and 9.5 l (2.55 US gallons) for 2- strokes. Besides providing greater range, the new fuel tanks improve ergonomics and ease-of- movement in the seat.
The same type and size bolts are used in all bodywork and this can be of great benefit when maintenance and critical intervention are required in any race.
The first thing I noticed when I threw my foot on the motorcycle was the completely new odometer and redesigned seat that really made you feel more comfortable on the bike. The seat design in particular seems to treat your butt well on long riding days!
Perhaps one of the most curious questions; "Does the counter-balancer really work?"
We can give the answer from two perspectives. Engineering measurements have proven that. "Yes, it works! "
*BUT! In the real world, you'll still feel quite a lot of vibration in your palms when you press the electric starter! Decide whether this is uncomfortable or important to you. But know that after a few hours with Beta you will still find the effects of vibration in your body.
Still carburetor! As you know, Beta 2 Strokes are still carbureted and will not be direct injected bikes for a long time. I always like the more aggressive attitude I feel when I ride on a 2-stroke carburetor! Especially when you pop the clutch, the effect works much more efficiently than the injection models of other brands. And you get the power faster. Holy touch for 2-strokes!
*BUT! If you are going to hang out with a crowded group at the weekend, you will beg for the majority of the group to have one of the injection models. When you spend a long time behind 2-stroke with carburetor, your lungs fill with 2 smoke! And soon this situation can become uncomfortable.
MODELS UNDER THE SPOTLIGHT
BETA RR 125 : The smallest member of the family. %100 agree with Beta's words. " It is the lightest and easiest to handle. In pure racing style, it is suitable for both young riders coming up from the lower categories and more expert riders looking for a fun bike. " Unfortunately with-out electric starter!
You have two positions to use the gas. Off or Wide Open! Otherwise, you'll lose the power completely. This makes riding 125cc very enjoyable and challenging in a different way. To enjoy this little beast, you definitely need a Sprint Enduro-style track.
RAW OnBoard Ride ( BETA RR 125 ): https://youtu.be/LlT3DJl5124?t=75
BETA RR 200 : It was one of the 2-strokes I enjoyed most during the test. Thanks to its torque and power matched to the dry weight of 97 kg, it is a very enjoyable 2-stroke! We will follow closely their rivalry with 150cc injected models of KTM and HUSQVARNA .
RAW OnBoard Ride ( BETA RR 200 ): https://youtu.be/LlT3DJl5124?t=276
BETA RR 300: The 300 cc category is the flagship of the 2-stroke world and the most competitive category for brands! Beta is also very ambitious in this class. The aggressive character of Beta is very clear on the BETA RR 300. In combination with completely new chassis geometry, the BETA RR 300 has improved rideability and increased power delivery compared to the 2019 models.
BETA RR 480: Beta RR 480 cc is our favourite among four-stroke motorcycles alternatives with similar values. A 4-stroke that can give you the performance you want both at the weekend with your buddies and at the local races. We are also sure that it will not upset you in Baja races. 108.5 kg sounds heavy, but already the lightest 4-stroke Beta is 107.5 kg
General 4-Stroke as the review; The power transmission is quite smooth. The satisfaction of this situation may vary from rider to rider. Because sometimes it makes you feel idle. Maybe a MAP Update can improve this in the future.
ALL FEATURES OF MY2020 BETA RR MODELS
Engine
4-stroke (350/390/430/480 cc):
A complete redesign, with the aim of reducing the weight and bulk of moving parts, achieved by raising the clutch and moving the crankshaft back. Moving the center of gravity closer to the swingarm pivot makes for significantly better handling. An overall weight reduction of around 1 kg (2.2 lbs.)
A redesigned magnesium clutch cover, redeveloped to improve the oil flow into the clutch assembly more efficiently.
Magnesium flywheel cover, redesigned in line with the rest of the engine,
New water pump system that improves flow-rate and therefore the efficiency of the cooling system's ability to transfer heat, keeping average temperatures lower, improving performance, and providing a more simplified cooling hose system.
Cylinder and head redesigned  matched with the updated cooling system to lower engine temperatures of Beta Motorcycles.
Oil circuit redesigned  to provide better heat transfer between oil and water in the front section of the crankcase in order to keep the oil temperature lower.
Clutch with redesigned discs in a new material  to ensure smoother and more modular gear shifting.
Redesigned gearing,  now shorter and lighter.
New gearshift mechanism  with lighter cam to improve shifting.
Gearshift lever redesigned in line with the new engine and frame layout.
Addition of a neutral sensor.
Beta Motorcycles updated EFI mapping.
Beta Motorcycles 2-stroke (250/300 cc):
Now with a counter-balancer to reduce vibration by increasing inertia and improving the power delivery curve. The counter-balancer improves the power delivery throughout the rpm range.
Cylinder head redesigned (250 cc only) to improve torque at low rpm.
Beta Motorcycles 2-stroke (125 cc):
New cylinder with modified exhaust port and diameters.
New exhaust flange.
New exhaust valve system and new boosters.
New clutch cover with air purging system operated by the modified clutch mechanism; modified oil inlet cap position.
New exhaust valve drive, opens at a different rate to improve power delivery.
New expansion chamber.
Visit News section for more!
CHASSIS
New frame with redesigned geometry and rigidity for increased agility and stability. Weight is reduced and reliability boosted with the use of precision-cast components, while comfort is improved and vibration reduced thanks to new head bolts. The frame is also narrower at the base which improves handling over difficult sections and typical off-road tracks.
Modified swingarm, now longer for the 4-stroke range and the 200 cc 2-stroke model, for better stability and traction.
Completely redesigned tailpiece, greater strength to reduce breakage during off road riding, all filter box components and related accessories are now housed inside it (electrical components and oil reservoir for 2-strokes).
New air filter boot.
Filter mounting system, providing quicker and more accurate installation.
Improved fork design compared to previous version, with new inner cartridge to lower the center of gravity providing the perfect level of plushness while also improving the action of square-edge impacts. Internal valving has been updated to work in-line with the new frame design.
New rear shock absorber with:
o Newtop-outsystem,now a spring to improve grip and contact with the ground during hard braking.
o New longer shock bumper with more progressive compression. This ensures good protection of the buffer and improves bottoming resistance.
o New valving, to work in-line with the new frame.
Cooling system with water hoses placed inside the frame and more efficient radiators. This improves heat transfer and allows engines to operate at lower temperatures even in the most extreme conditions.
Larger capacity fuel tanks, of 9.1 l (2.4 US gallons) for 4-strokes and 9.5 l (2.55 US gallons) for 2- strokes. Besides providing greater range, the new fuel tanks improve ergonomics and ease-of- movement in the seat.
Wider handlebars for greater control.
Exhaust with new layout in line with the bike's new rear section.
Side stand with bigger foot.
New precision-cast footpegs that are better at shedding mud and teeth to increase boot grip.
New chain guide, longer to suit new swingarm.
New brake pedal, more robust and with larger bearings.
Shorter 430/480 cc gearing compared to previous models.
DESIGN
Completely new superstructure (front cowl, front and rear fenders, ducts and fairings) that improvesergonomics and the operation of all related parts retaining the Italian design Beta is known for.
Front fender with variable thickness geometry which reduces weight and increases rigidity.
New tailpiece in techno-polymer.
New tailpiece attachments in techno-polymer.
New handlebar protector.
Redesigned seat, more comfortable when moving about on the bike.
New license plate bracket, lighter and with integrated handles.
New silencer protector (excluding 125 cc).
New digital instruments and instrument panel.
Redesigned skid plate.
New rear light and license plate bracket with integrated handles.
New frame protectors.
More info: https://betamotor.com