Red Bull KTM Factory Racing's Nathan Watson has secured a dominant victory at round three of the Championnat de France des Sables beach race series in St. Léger de Balson. Charging his way to a commanding two-minute win, Watson claimed the top step of the podium for the first time in the 2018/19 championship. Placing inside the top 10 with seventh, teammate Jeremy Hauquier also recorded his best result of the season to date.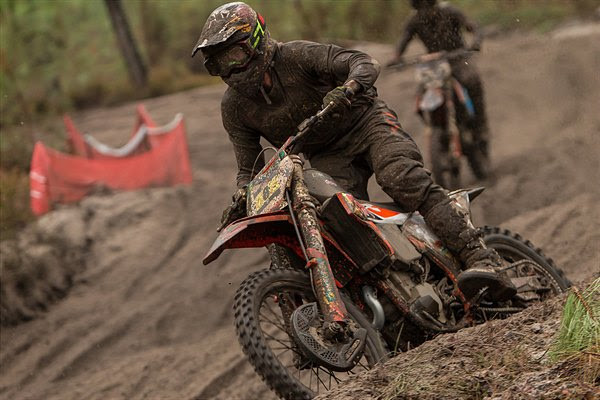 Offering a change from the traditional seaside beach race, round three of the Championnat de France des Sables made its way inland to the vast, deep sandy forest region of St. Léger de Balson for the third stop of the championship. Wet and changeable weather for the two-hour-30-minute race ensured conditions would be anything but predictable for the 300 riders competing.
After missing round two due to his World Enduro Super Series commitments, Nathan Watsonreturned to competitive action in the championship highly motivated following his recent victory at the Red Bull Knock Out beach race in The Netherlands.
Starting strongly, Watson rounded the opening lap inside the top five. However, with conditions proving wet and muddy, he knew it would be a race of attrition for many. Taking his time to settle into things, he steadily worked his way into the lead during the first 45 minutes. Opting to pit early for a fresh pair of goggles and gloves saw him drop back to second place behind new race leader Milko Potisek. Feeling strong and comfortable in the deteriorating conditions, Nathan quickly worked his way back in front. Continuing his unrelenting pace, the KTM 450 SX-F rider ended the race with a two-minute-20-second margin of victory.
Nathan Watson: "I'm delighted and a little bit surprised with how well my race has gone. I felt in control the whole way through and despite some horrendously tough conditions I was able to manage the pace of the race to my advantage. With a lot of rain I knew conditions would be tricky. My start was ok and I was fourth after lap one. A few riders made some mistakes and then suddenly I was in the lead. However, I needed to pit early for fresh goggles and gloves and that dropped me back into second behind Milko. When I got going again I managed to pull him back in quite quickly and once ahead I continued that strong pace until the chequered flag. It feels great to get this win, especially off the back of my Red Bull Knock Out victory and I'm looking forward to keeping that momentum rolling into round four next weekend."
Results – French Beach Race Series, Round 3 
1. Nathan Watson, KTM, 17 laps 2:39:26.670
2. Milko Potisek, Yamaha, 2:41:47.330
3. Jeffrey Dewulf, KTM, 2:45:24.490; 
4. Petar Petrov, KTM, 16 laps 2:40:52.881
5. Maxime Sot, Yamaha, 2:41:22.540
Other KTM
7. Jeremy Hauquier, KTM, 2:42:24.820
Championship Standings (After round 3)
1. Milko Potisek, Yamaha, 410pts;
2. Jeffrey Dewulf, KTM, 375pts; 
3. Petar Petrov , KTM, 308pts;
4. Maxime Sot, Yamaha, 292pts;
5. Nathan Watson, KTM, 285pts
Other KTM
10. Jeremy Hauquier, KTM, 262pts
20. Camille Chapeliere, KTM, 215pts…