Scott Motosports has officially unveiled their 2020 range of Motocross and Enduro specific racewear just a few mounts ago.
And we're taking over the SCOTT 450 Podium Gear Set and pushing for action!
The SCOTT 450 Podium Jersey is highly ventilated and features superior moisture wicking for increased comfort. A low profile collar reduces potential for discomfort under neck brace.
The SCOTT 450 Podium Jersey – KEY FEATURES
Athletic fit
Strategically ventilated chassis
Silicon printed rear no slip panel
Taped cuffs to eliminate binding
The SCOTT 450 Podium Pant is all about lightweight and breathability. The pant features a mix of lightweight and breathable panels combined with durable abrasion resistant nylon. Buffalo leather knee reinforcement is specially shaped for an aggressive rid.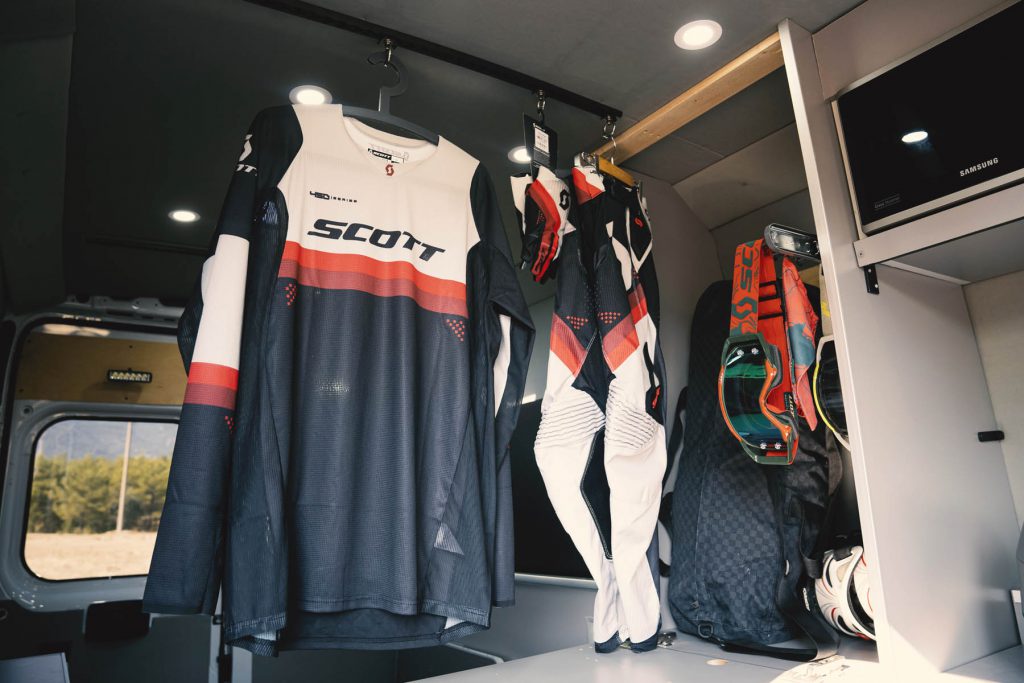 The SCOTT 450 Podium Pant – KEY FEATURES
Athletic fit
Large knee area will accommodate all MX knee braces
Stretch inner liner
Laser cut perforated vetilation on thigh panel
Silicon grip on inner waistband to eliminate
slippage due to gripper / step seats
Articulated velcro stretch waist closures for a perfect adjustable fit
Nylon 900 D® inner lining on knee leather to eliminate knee brace abrasion
The SCOTT 450 Podium Glove is a high end, lightweight breathable glove with everything you want and nothing you don`t. It features a lightweight span upper, molded airprene cuff with one piece closure on base of wrist and a Clarino leather palm. The SCOTT 450 Glove is articulated for comfort and ease of use.
SCOTT PROSPECT ISDE PORTUGAL GOGGLE
SCOTT present the new Limited Edition International 6 Days of Enduro (ISDE) Prospect as part of our official partnership with the 6 Days event. Featuring the widest field of vision on the market, the No Sweat Face Foam, the innovative SCOTT Lens Lock System, articulating outriggers and much more, the SCOTT Prospect LE 6 Days Goggle is ready and waiting for the most extreme conditions you can throw at it. Designed with a map motive in the colours of the 2019 host nation, Portugal, along with the official FIM ISDE logo on the strap, this is the perfect goggle for fans of the world's most prestigious Enduro event, ahead of its 94th edition. A free goggle pouch with matching designs completes the package.