KTM Spain riders Josep García (E2), Jaume Betriu (E3) and Sergio Navarro (E1) win and are crowned in the last round of the 2020 Spanish Enduro Championship in Calders (Barcelona).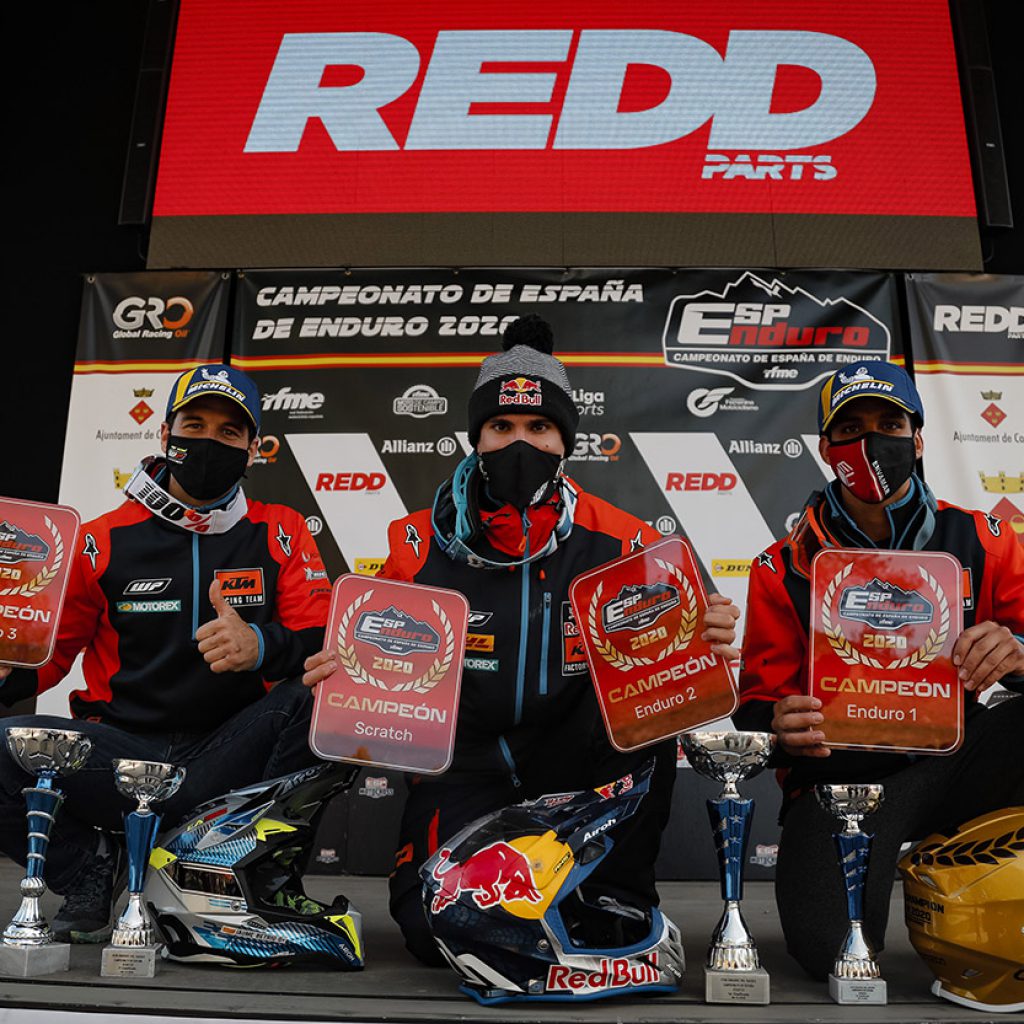 Josep García arrived at this last test of the 2020 calendar, he played at the 'El Canadell' estate, with a comfortable advantage of 15 points at the head of the absolute classification and already as virtual Champion of the E2 category, after the RFME confirmed it would be a one day race. With the Scratch title practically in his pocket, although not decided, García wanted to avoid surprises and set out in search of victory in this last round of the 2020 Enduro Spanish Championship.
A test with fast and demanding timed specials, just as he likes them, which he led from the start and where he was able to squeeze all the virtues of his KTM 350 EXC-F, a motorcycle with which he has starred in a successful debut this season.The Catalan set the best time in 8 of the nine stages, achieving his third victory of the season in the Nacional and thus conquering a new double in the Spanish Enduro Championship, although this time Scratch and E2. "From the beginning I have felt very good and comfortable on the bike, the times ahead have been very tight and I have enjoyed a lot, giving my best, as always," said Suria's Josep García. "I am very happy to have won the 350 in my first year with it. So next year we will have to defend these Scratch and E2 titles ".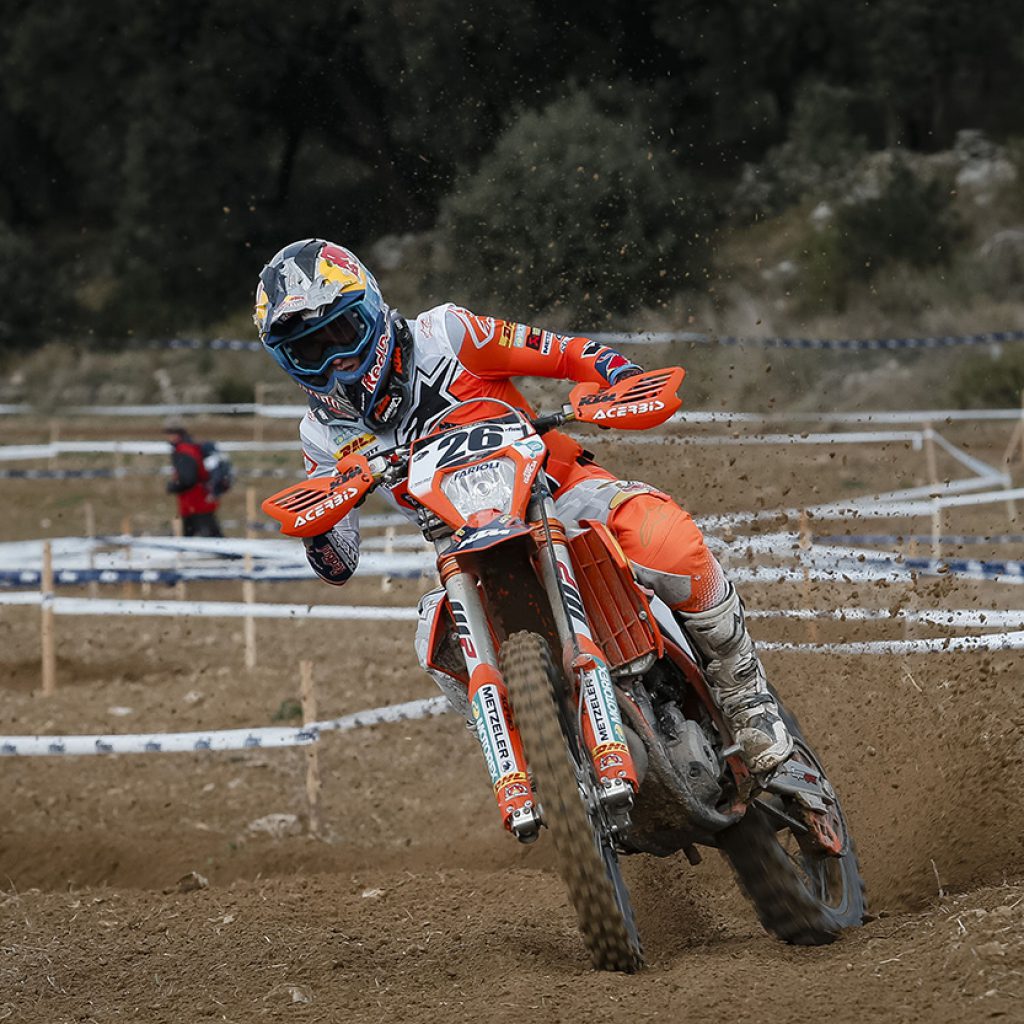 In class E1, the protagonist was Sergio Navarro, who arrived at this last test occupying the second place in the provisional classification, just two points behind the leader. But the KTM rider did not want to leave any doubt about his aspirations and has won in an unappealable way, thus also winning the title of Spanish Champion in the category. 
For his part, Jaume Betriu, the great dominator in E3, accompanied in third position on the podium by Marc Sans, some results that have earned both riders to be proclaimed Champion and Runner-up of Spain 2020 in the E3 category. All these results have served to close an impressive 2020 for KTM Spain, since in addition to prevailing in all the categories, the orange riders have achieved a resounding Scratch triplet, with a final podium made up of Josep García, Jaume Betriu and Marc Sans.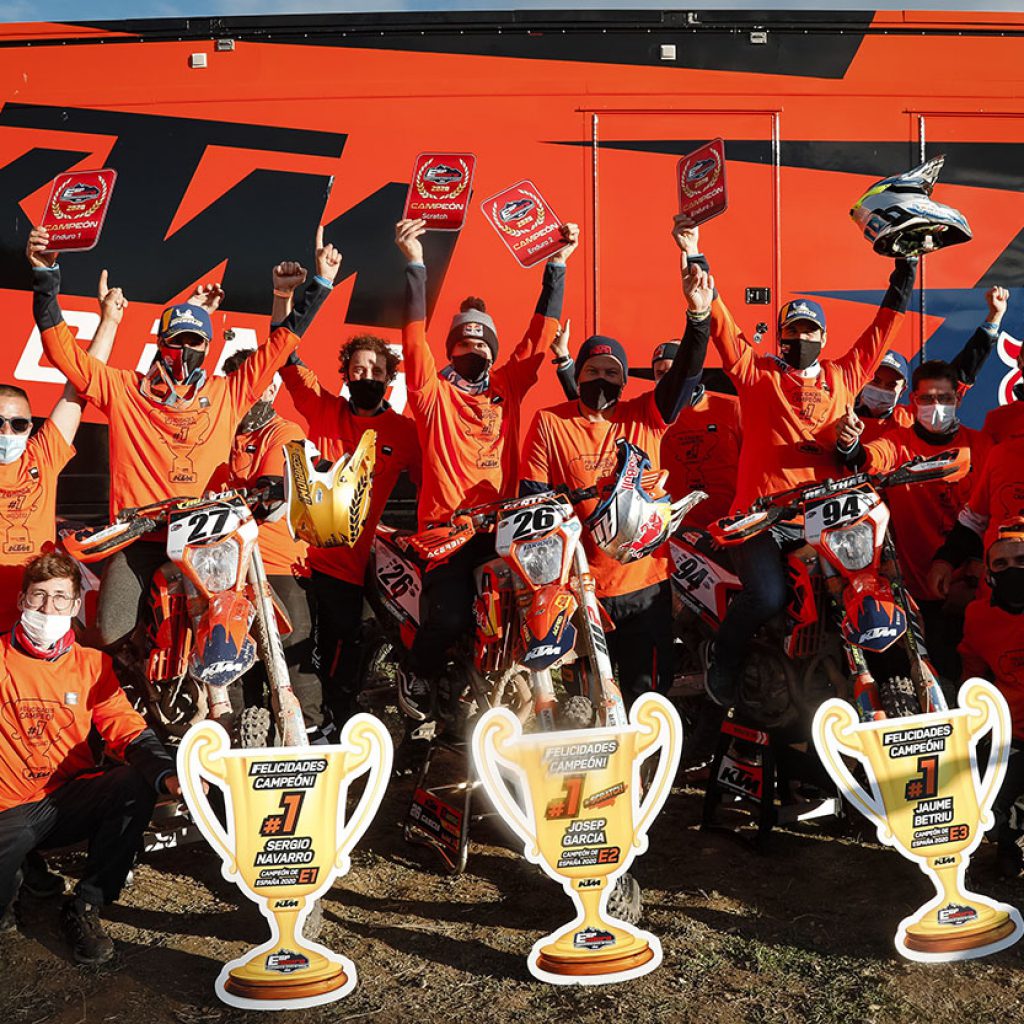 Spanish enduro Championship 2020, Scratch result:
1. Josep García (KTM)
2. Jaume Betriu (KTM)
3. Sergio Navarro (KTM)
E1 championship:
1. Sergio Navarro (KTM)
2. Kirian Mirabet (Honda)
3. Jordi Quer (Husqvarna)
E2:
1. Josep García (KTM)
2. Víctor Guerrero (Husqvarna)
3. Nicolas Kutulas (KTM)
E3:
1. Jaume Betriu (KTM)
2. Bernat Cortés (KTM)
3. Marc Sans (KTM)
Photo Credit: Nicki Martinez