The official Beta rider, Steve Holombe, was once again the protagonist on the second day of the French Enduro Grand Prix. His greatest rival, Brad Freeman, again scratched the victory.
After a dusty first day, torrential rains on Saturday night changed Sunday's race. Although there was no mud, the three special tests had changed, although that did not change anything for the best drivers, who continued their search towards the top.
Once again Steve Holcombe (GB – Beta) had to watch his back at the end of the day when both Andrea Verona (I – TM) and Brad Freeman (GB – Beta) came within 16 seconds of him. Holcombe nearly lost all his work in the last test when his two pursuers were hot on his heels. But the Factory Beta rider achieved another close victory, just 3 seconds ahead of Brad Freeman (GB – Beta)!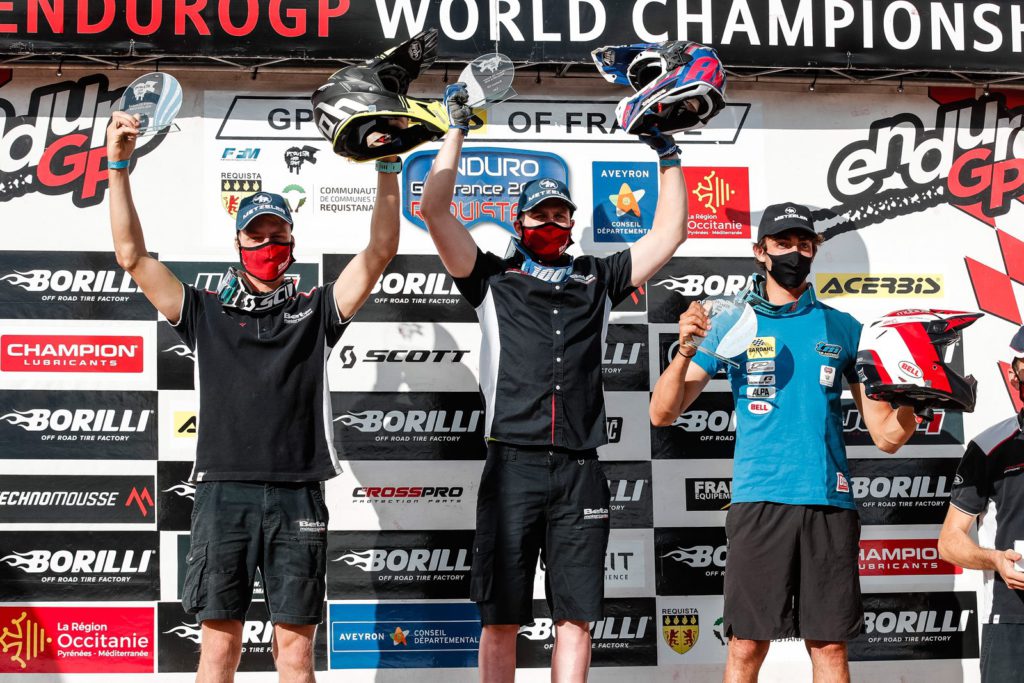 As on matchday one, the 2019 EGP world champion took a while to pick up the pace and once again narrowly missed the win. This is something you will have to figure out before next weekend in Italy. However, despite being out of the Top 3 for most of the day, Freeman was able to clinch second place, proof of his strong character. Like yesterday, Andrea Verona (I – TM) took third place on the EGP podium. The Italian Senior class rookie could have taken advantage of Holcombe's fall to claim his first premier class victory, but a crash in the last Enduro Test of the weekend deprived him of a victory and even second place.
Detrás del trío de cabeza, Jaume Betriu (E – KTM) tuvo una muy buena carrera. Líder de la general al final de la primera vuelta, el catalán ha estado fuera del Mundial de Enduro durante un tiempo para centrarse en el Rally Dakar, pero claramente no ha perdido su velocidad durante su tiempo de descanso, tomando un gran 4º lugar. Cuarto en la primera jornada, el francés Loïc Larrieu (TM) ha conseguido otro Top 5 en detrimento de Danny McCanney (GB – Honda).
Una mención especial de nuevo para Jérémy Tarroux (F – Sherco), que consiguió el 7º lugar, y para el novato de la clase Senior, el bélga Antoine Magain (Sherco – 9º), así como Marc Sans Soria (KTM – 10º).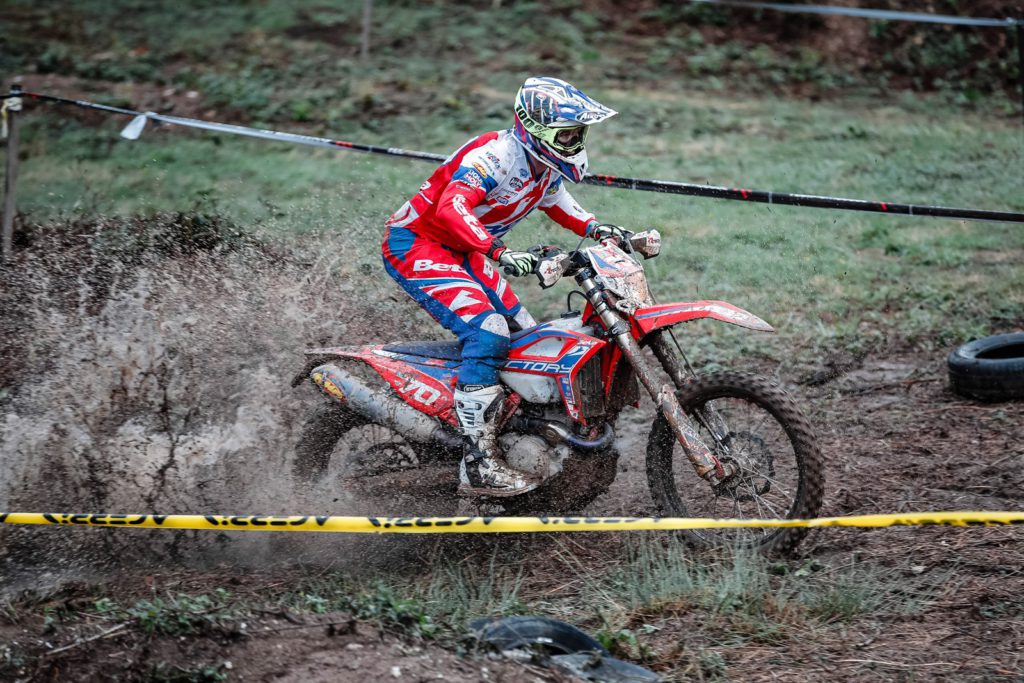 Behind the leading trio, Jaume Betriu (E – KTM) had a very good race. Leader of the general at the end of the first lap, the Catalan has been out of the Enduro World Championship for a while to focus on the Dakar Rally but has not lost his speed during his rest time, taking a great 4th place. Fourth on the first day, Frenchman Loïc Larrieu (TM) achieved another Top 5 to the detriment of Danny McCanney (GB – Honda).
A special mention again for Jérémy Tarroux (F – Sherco), who got 7th place, and for the rookie of the Senior class, the Belgian Antoine Magain (Sherco – 9th), as well as Marc Sans Soria (KTM – 10th).
New day, the same winners
In Enduro 2, Holcombe took another victory over Loïc Larrieu (F – TM) and Danny McCanney (GB – Honda). Matteo Cavallo (I – Sherco) and Alex Salvini (I – Honda) completed the Top 5.
In Enduro 1, we also find the same winner from the first day: 2019 Junior World Champion Andrea Verona. Tarroux was next with Thomas Oldrati (I – Honda) third. The last two places in the Top 5 went to Antoine Magain and Christophe Charlier (F – Beta).
Regarding Enduro 3, the same story with Freeman beating Jaume Betriu. After a great day of racing, Marc Sans Soria snatched the last step of the podium from Davide Guarneri (I – TM) while Cristóbal Guerrero (E – Beta) finished fifth.
In the highly contested Junior class, Théo Espinasse (F – Sherco) once again made life difficult for all his rivals with another victory. He will head to Italy next weekend with the leader plate. He finished more than 27 seconds ahead of his teammate, Hamish MacDonald (NZ – Sherco) and Matteo Pavoni (I – Beta Boano). Australian Wil Ruprecht (AUS – Beta Boano) picked up the pace considerably on the final lap but was too far behind the leading trio to reach the podium. A third Beta Boano driver took the lead in the Top 5 with Lorenzo Macoritto (I). Recognized as two of the best teams for attracting young talent, Sherco Factory and Beta Boano took the majority in the under-23 classes.
Espinasse therefore also took the double in J2 ahead of Hamish MacDonald and Matteo Pavoni, while Lorenzo Macoritto won in Junior 1 against Roni Kytönen (SF – Honda) and Brazilian Bruno Crivilin (Honda).