In this episode, we will meet German hard enduro racer, Manuel Lettenbichler.
Manuel is a popular rider in Enduro community. He has been passionate about bikes since the age of five. He worked for years to succeed in Hard Enduro sport. He won three junior trial titles before taking a change of direction. His father, Andreas 'Letti' Lettenbichler, introduced him to Enduro riding and Manuel caught the bug. On his first appearance at the Red Bull Hare Scramble in Erzberg in 2014 he became, at the age of 16, the youngest rider to ever finish the race.
In 2019, he underlined just how much talent he has at his disposal by finishing as the outright winner of the World Enduro Super Series – the undoubted highlight of which was his victory at Red Bull Romaniacs – to claim the title of Ultimate Enduro World Champion. This year, Reigning WESS champion Manuel Lettenbichler, hard enduro masterclass to win Red Bull Romaniacs for the second year in a row, beating Graham Jarvis and Alfredo Gómez to glory.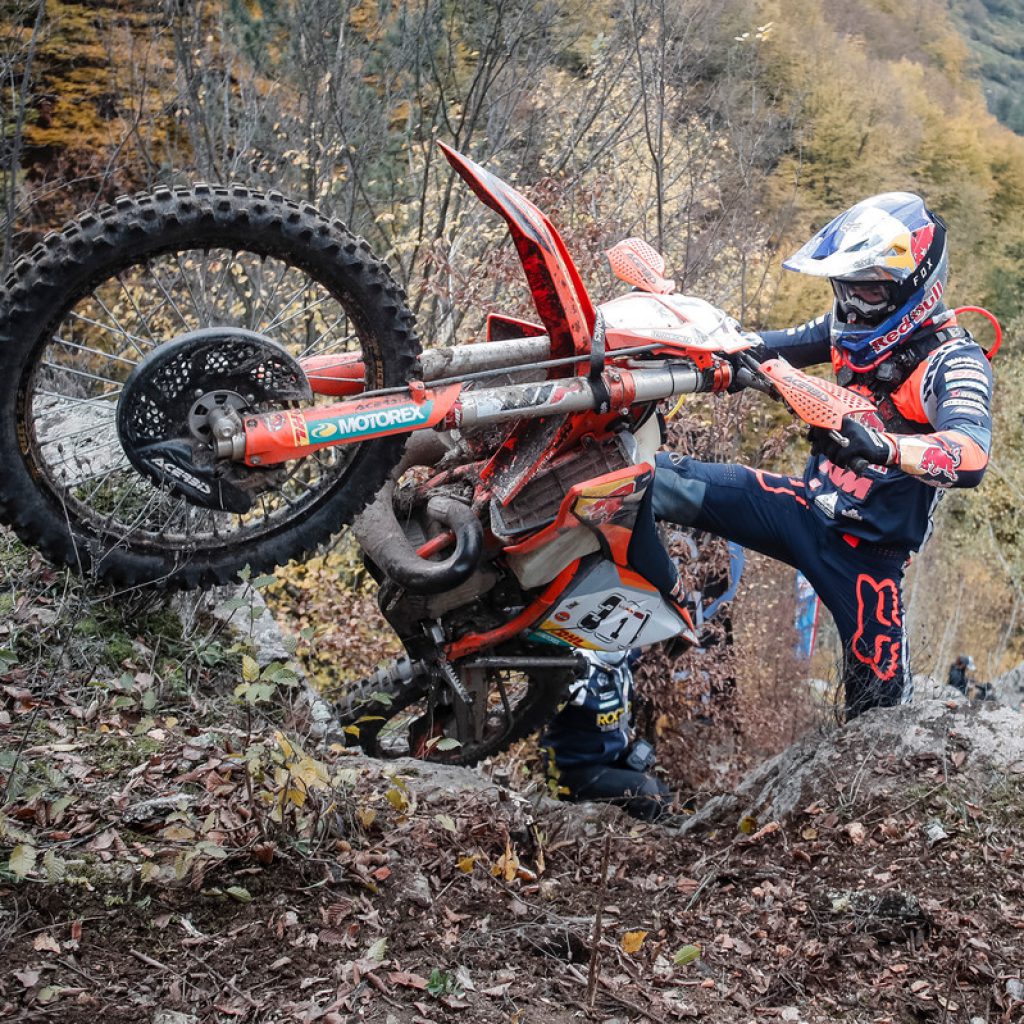 1- How do you feel now that you have won second of the most prestigious hard enduro events Red Bull Romaniacs 2020?
It feels amazing. Especially in a year like this. We came to the event and I was pretty nervous because I wasn't sure if I'm fit enough, but it turned out that we were ready.
2-Can you sum up the race for us a little bit?
Pretty intense racing this year. The level was so high from everybody and the speed was insane. I think we could see it at the time in the first couple of days. It felt like riding MX in a hard enduro race. Graham and myself were riding together nearly every day and I think we pushed each other to a whole other level. It was so close until the end but really happy that I could pull this off again.
3-What is your strategy for an enduro race?
No strategy. I always try to give my best in every moment.
4-What was your first motorcycle? Who bought them?
My first bike was a Beta 50cc automatic Trial. My dad bought it for my 5th Birthday.
5-What's the biggest misconception people have about what you do?
Everybody thinks I'm always full gas but I'm actually a really calm person who can just go crazy in the good moments.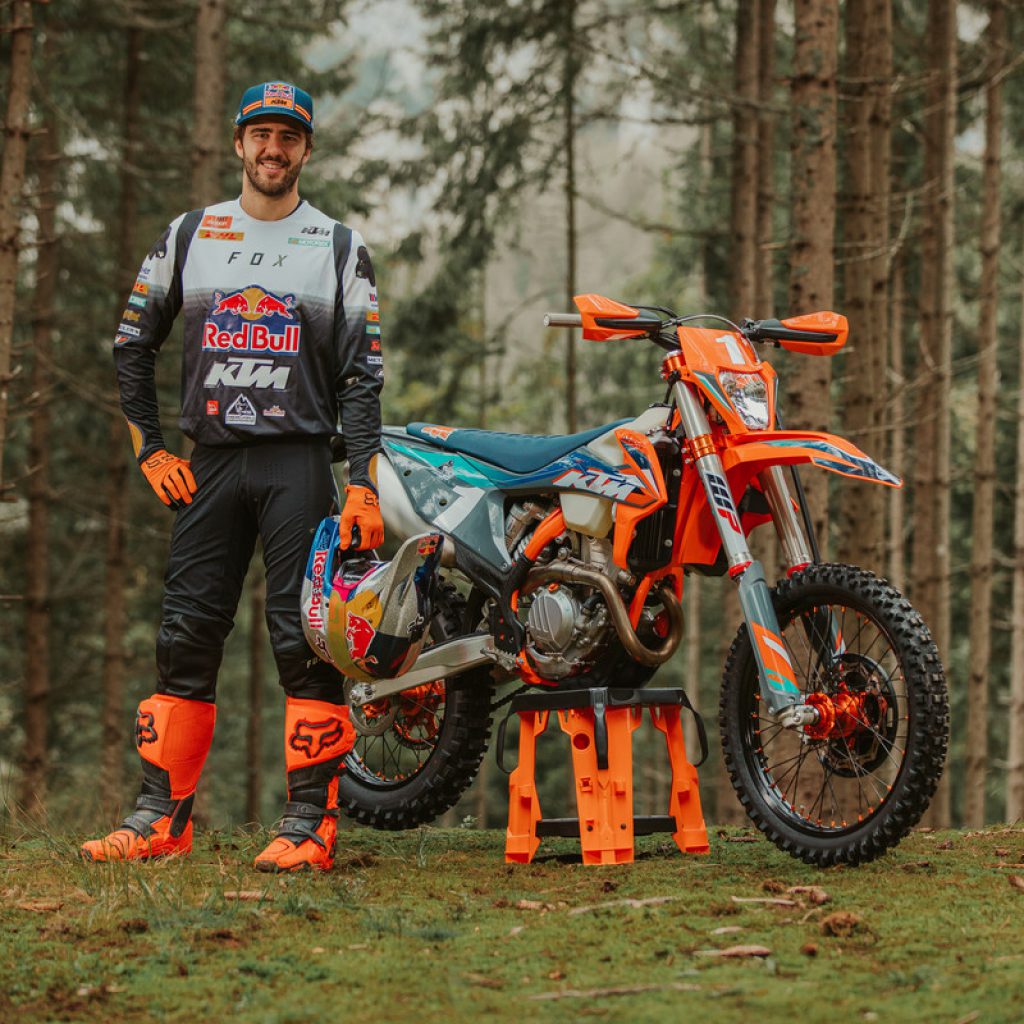 6-Who taught you to use a motorcycle? And why?
Totally my dad. He was although a pro rider back in the days and I just grew up with it. It was kind of normal to be around dirtbikes. He also supported me in any decision that I made and he never pushed me to go for a ride that's why I think know I'm enjoying it so much.
7-Your favorite route, track or place to ride?
I think Romania is pretty good if I'm to be honest. The race is brutal but I think the riding itself is so good and cool and it's just fun to ride out in the mountains.
8-Do you think that you have achieved as much as you wanted? Or have there been many unticked boxes along the way?
I think I'm in a good way. There are still a couple of things to achieve for sure and I think I'm still at the beginning of my career, so hopefully, there is more coming. 😉
9-Does anything rattle you during the race?
I would say not really. I think I'm a pretty clever rider and try to stay relaxed as well as possible and don't freak out about things.
10-How much do the behind-the-scenes conflicts with other racers affect your mindset during the race?
Not really. I think we are all pretty close friends in the paddock. For sure if we race everybody wants to be the best but this doesn't really affect my mindset. I think I'm in such a race moment where you don't really think about things like this.
11-How do you deal with the nervous energy before races when you have a smile and a good nature around the event?
I'm always trying to stay relaxed as possible but to be nervous I think is actually important for a race. If I'm to nervous we always try just to joke around and making funny things that you are a little bit forget the race feeling.
12-Did you always want to be a rider, or was there a time when you were a kid that you wanted to be a fireman or do something else?
For me, it wasn't the dream to become a rider. I realized it maybe when I was 16 that I had the opportunity to become a pro rider and since then I knew this is a big dream.
13-Do you have any special exercises for training your reflexes or reaction times?
Not really. When I was injured know 2 months ago I was training at the Red Bull Athlete Performance center and we have done couple of cool things to get better in it.
14-Do you have a dream bike?
Mmmmm good question I would say maybe something super old. I have been last year in this crazy moto museum and there were so sick bikes in it so I would say something super old just to cruise around.
15-If you had a day off to do anything you wanted in the world but couldn't race, what would you do?
Probably I would go for a sick mtb trip with my buddies.
16-What happens if you need to sneeze during a race?
You just sneeze!!!
17-Is there any specific song/music you listen to before getting into the race? Can you share your daily playlist?
Before I'm not really listening to music. In general, I'm listening to any kind of music it always depends on the mood where I'm in. At the moment I'm listening quite a lot to Hip Hop. Like Loyle Carner, Mac Miller, Outkast, Chiddy Bang,…
18-If there was one biker of any era that you could test yourself against in an identical bike, who would it be?
I would love to race back in the days maybe against Roger D Coster this would be pretty funny I think. They have all of my biggest respect. Know a days the bikes are good but when you jump onto an old MX bike and the brakes don't really work and the suspension is just a suspension, to go fast with them bikes is just so hard. So I think the race in their time would be a lot of fun.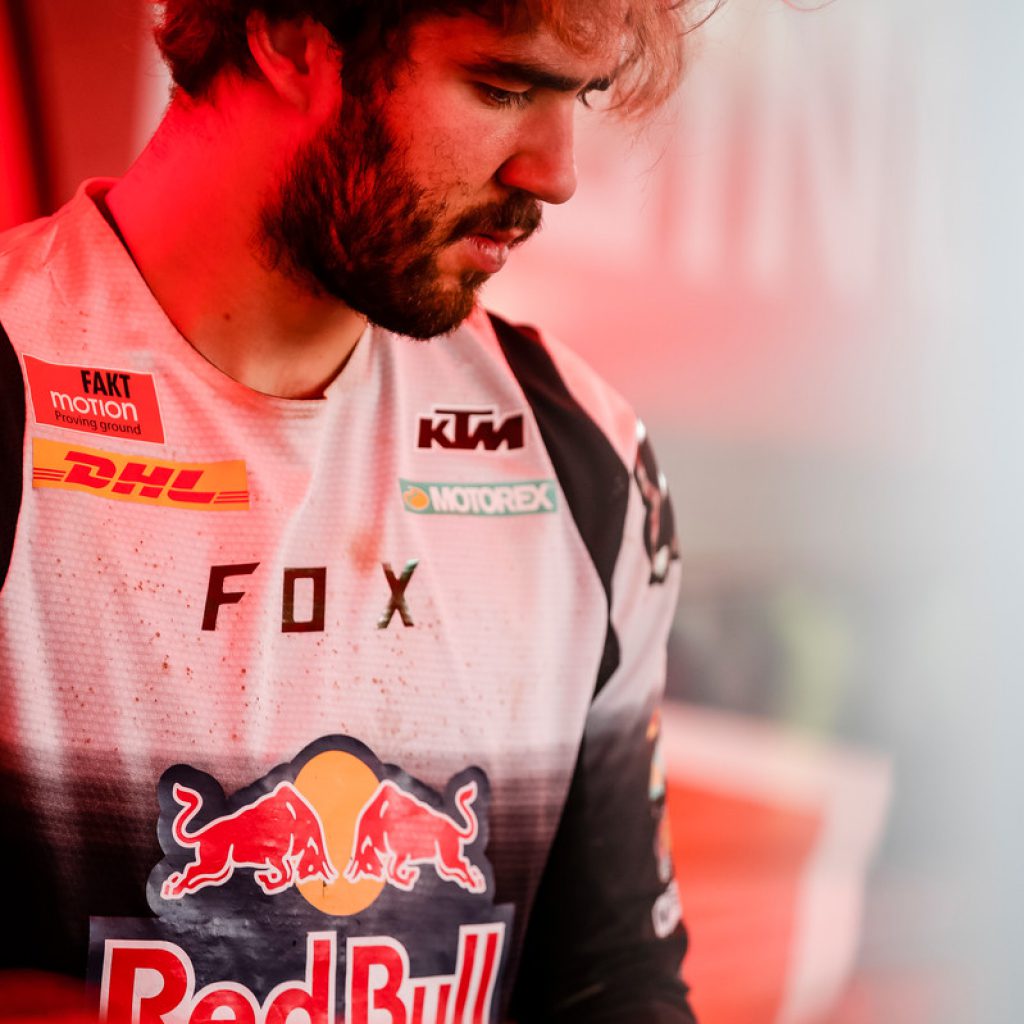 19-Fan Questions (@dawidszczotka_): What supplements do you use?
I'm not really using a lot of supplements. At a race, I'm using most of the time Power bar products. Salt, magnesium, BCAAs and a good protein shake that's pretty much it.
20-Fan Questions (@dawidszczotka_): What's your weight and hight?
183cm and 80kg
21-Fan Questions (@tannercarew10): Which one is your favorite race?
Romaniacs, because the last 10k into the finish are the best. The feeling and emotions which going through your head at this point are so good. You just realize all the hard work what you put in is paying off.
22-Fan Questions (@milobri06): Your hardest crash ever?
Gotland two years ago was pretty hard. Breakpads were gone because of all this mud and over shooted one corner. I can tell you guys this one hurt big times.
23-Fan Questions (@dawidszczotka_): What spring rade for Hard Enduro and what for Enduro?
69 for hard and 72 for enduro
24-Fan Questions (@hayden_noullet): When did you start the enduro?
I think in 2014. I still was riding trials at this point but just have done couple of events together with my dad.